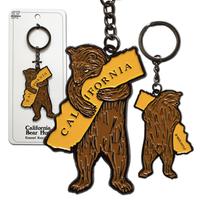 From SF Mercantile
Karen Finlay, owner of Alibi Bookshop in Vallejo, Calif., reported that the store did very well with sidelines over the holidays. Bestsellers included socks from Funatic and Out of Print; candles from Luminary & Co. and Fly Paper Products; and pins from Dissent Pins, Unemployed Philosophers Guild and Literary Emporium; as well as Flame Tree journals, RP Minis, tarot cards and "everything with the 'bear hug' image from SF Mercantile." As always, greeting cards sold in high quantities, with Laughing Elephant cards proving especially popular; Finlay remarked that anything with a "cat or axolotl" on it will sell well.
Finlay said the store has recently expanded its selection of boxed stationery and pens, and she's heard from a number of customers that "they want to go back to writing personal notes instead of texts and e-mails." Tom Killion notecards from Heyday have been a hit, and Alibi "can't keep i-clips and Note Pals in stock." Puzzles, meanwhile, have slowed down in the last few months; she attributed that to people being "out and about more."
On the subject of perennial favorites, Finlay pointed to magnets, prints, postcards and notecards from Found Image that feature vintage images of Vallejo, which constitute the store's biggest sellers year round. Store-branded T-shirts and totes are also strong sellers, and the bookstore team is in the process of designing new ones. Other favorites include stuffed dragons made by a local artist named Stan Clark, who also does Astro Botanicals.
For children's sidelines, there are plushies from Merrymakers and Wild Republic, as well as onesies, socks and T-shirts from Out of Print. Finlay pointed out that with a Lego store across the street, they don't want to carry anything that would compete directly. Anything related to Dungeons & Dragons or Minecraft is usually a hit with both children and adults, she added.
Finlay said she hasn't had to deal with many supply-chain issues related to sidelines, though the post office "lost a bunch of the Woobles kits we ordered." Faire in particular, she said, has been "great."
---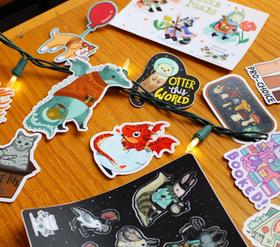 Stickers at Red Balloon
At Red Balloon Bookshop in St. Paul, Minn., stickers have sold well ever since the store brought them in early in the pandemic, said toy and gift buyer Jaya Anderson. Popular vendors include Turtle's Soup, the Found and Marika Paz Illustrations, and some of those designs have been "favorites of the staff and customers."
For the holidays, the store added felt animal ornaments from the Winding Road that sold out, and crystal growing dinosaur terrariums from Toysmith that "seemed to fly off the display." Asked about locally made sidelines, Anderson said the store carries Frostbeard candles, "which are always popular and smell delightful." And roughly a year ago the store partnered with a local nonprofit called Hippy Feet to create Red Balloon socks.
Anderson noted that as a children's bookstore, Red Balloon tries to carry sidelines for all age levels, from 0 months to teenagers. For very young children, Fat Brain has a "great selection," and the recently introduced wide-ruled journals from Decomposition have been popular with school-aged kids. Ooly's glitter highlighters, meanwhile, "are fun for teens and adults." As for supply-chain problems, Anderson said there weren't many over the holidays, "though some vendors are still backed up."
---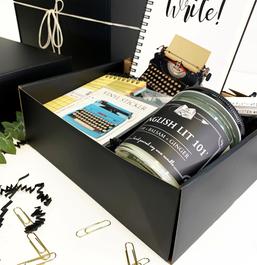 From Fly Paper Products
In Frederick, Md., Curious Iguana has had a lot of success with vinyl stickers for the last two years, reported manager and buyer Lauren Nopenz Fairley. The shop added a "whole display just for stickers" and orders them "from a variety of artists and companies" found on the wholesale site Faire. Fairley noted that book-themed and current events-themed stickers "do equally as well."
Journals, especially the "more elaborate ones" from places like Paperblanks, are also constant sellers, and tote bags from Out of Print and Buy Olympia, Fairley added, consistently do well. The store has carried items from Fly Paper Products for a few years now but recently brought in their soy literary-themed candles, and those have done "surprisingly well for us."
Curious Iguana carries two card lines from local companies: Second Story Cards in Washington, D.C., and the Dancing Cat in Baltimore, Md. Children's offerings, meanwhile, include bookmarks from Peter Pauper Press and kid-sized totes from Out of Print and Gibbs Smith.
On the subject of supply-chain issues, Fairley said the store had "a lot of trouble getting any journals in for the holidays and ended up not having any." That was disappointing, and Fairley pointed out that all three of the store's larger journal suppliers are still behind. --Alex Mutter