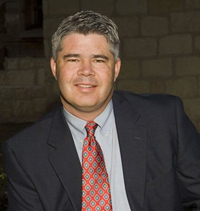 Joe McKinney
Joe McKinney, the prolific horror writer who won Bram Stoker Awards for his novels Flesh Eaters and Dog Days, died July 13, the San Antonio Current reported. He was 52.
McKinney published Dead City, his first novel, in 2006. In writing the book, which featured a San Antonio cop trying to survive the zombie apocalypse, McKinney drew from his experience as a sergeant with the San Antonio Police Department. Much of his work featured police procedural elements and was set in San Antonio.
Dead City was the first in a four-book series. McKinney went on to publish more than 20 books during his career and was nominated for the Bram Stoker Award six more times.
Lisa Morton, a six-time winner of the Bram Stoker Award who met McKinney in 2006, wrote that he was a "unique person, a helluva writer, and a fine friend," as well as "a cop who cried during fiction readings." They both served as Horror Writers Association (HWA) officers and trustees at various points and McKinney was "always a trusted voice of wisdom."
JG Faherty, a fellow horror writer and member of the HWA board, wrote that he was "terribly saddened to hear that a good friend and great writer," had died. "I will miss the chats we used to have every few months. He was always there to help me when I needed some factual assistance with police procedure, or to just bulls--t about things."