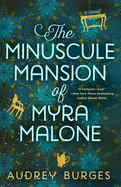 Audrey Burges's The Minuscule Mansion of Myra Malone charmingly combines threads of magic, whimsy, romance, grief and loss in a debut novel of great feeling.
Readers meet 30-something Myra in 2015 in the Arizona mountains, where she lives in the attic of her late grandfather's cabin. She is regularly visited by her best friend Gwen, who forms Myra's main link with the outside world--along with the website by which hundreds of thousands of followers know the Mansion, Myra's life's work and greatest love. She inherited the large, highly detailed, finely wrought miniature (don't call it a dollhouse!) from her beloved step-grandmother, Trixie, who, along with Grampa Lou, taught her sewing, woodworking, painting and sculpting: "I know what gemstones look like water and what pen can draw the most convincing chain stitch on a washcloth that's too small to sew."
In flashbacks, the novel also reveals a very young Myra in her loving relationship with Trixie, until the older woman's tragic death on Myra's fifth birthday. Other chapters introduce a woman returning to her stately home in Virginia in the 1930s. And in 2015 Virginia, a young man named Alex discovers Myra's website, "The Minuscule Mansion of Myra Malone," and the miniature Mansion itself, which is, shockingly, a perfect match to the riverside family estate where he lives alone.
Burges carefully constructs her plot with as much quirkiness and love as any of Myra's miniatures. With sympathetic characters, high stakes and winning miniature chifforobes, The Minuscule Mansion of Myra Malone is dreamy, sweet and satisfying. --Julia Kastner, librarian and blogger at pagesofjulia