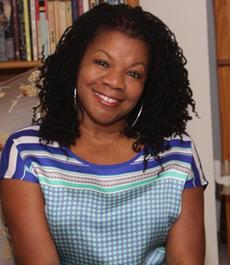 photo: William Townley
Journalist Denise Crittendon has been a newspaper reporter, magazine editor, motivational speaker, ghostwriter and adjunct community college professor. As author of two self-help books for teens, the Detroit native relishes the peace and inspiration of long walks through tree-lined parks and woods, where she says her imagination is unleashed. Where It Rains in Color (Angry Robot, December 6, 2022), an Afrofuturistic sci-fi/fantasy, is her debut novel.
Handsell readers your book in 25 words or less:
She's the shimmering Black beauty of Swazembi. Until scars and phantom voices surface, leaving her with powers that shift her destiny and shock the galaxy.
On your nightstand now:
The Deep by sci-fi author Rivers Solomon. Considering the controversy about a Black actress starring in Disney's The Little Mermaid, this novel is pretty timely. Solomon tends to write passionate speculative fiction that incorporates the transatlantic slave trade. In The Deep, she offers an inventive twist on what happened to Africans who either jumped from ships during the Middle Passage or were thrown overboard due to illness.
Favorite book when you were a child:
The Shy Stegosaurus of Cricket Creek. I have no idea why this story intrigued me so much, but I just loved it. I can still picture myself curled up in my favorite hiding place in the corner of the family dining room, completely lost in this library book.
Your top five authors:
Octavia Butler--I'm amazed by her extraordinary vision and fascinating usage of the natural world for organic technology. In her Lilith's Brood series (Dawn, Adulthood Rites and Imago), the space vessel is an actual living being. Also, the aliens in this world can place sleeping humans inside biologically altered carnivorous plants, thereby prolonging their lives for centuries.
Toni Morrison--No one reflects on the hard road of African Americans quite like Morrison. She weaves it into pure magic.
Chimamanda Ngozi Adichie--Her insights and metaphors captivate me. Plus, I love delving into African culture, politics, history and lifestyles.
Isabel Allende--I have a great appreciation for magical realism and really enjoy her epic stories that often span several generations in one novel.
Ursula Le Guin--Whenever I read Le Guin, I feel like I'm looking through the eyes of a caring anthropologist. Her tales are engaging and thought-provoking. Earthsea will always be one of my favorite series.
Book you've faked reading:
The Old Man and the Sea by Ernest Hemingway. In fact, anything by Hemingway. Sorry, I'm not a fan.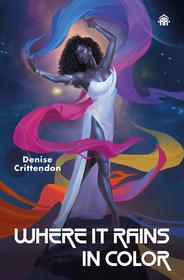 Book you're an evangelist for:
Dawn by Octavia Butler. When I finished reading it, I sat on my sofa and quietly stared for at least 15 minutes. That's just how real it felt. I'm always encouraging people to read Dawn, because it's shocking yet believable and shows just how visionary sci-fi can be.
Book you've bought for the cover:
I have never bought a book because of a cover. I'm more drawn in by creative titles. A few that come to mind are: An Unkindness of Ghosts by Rivers Solomon; Afro Puffs Are the Antennae of the Universe by Zig Zag Claybourne; The Hitchhiker's Guide to the Galaxy by Douglas Adams; The Diver's Clothes Lie Empty by Vendela Vida. With titles like this, I automatically assume the book is going to be profound or outrageously clever.
Book you hid from your parents:
I have never read anything so risqué that I had to hide it from my parents. My reading list has always been fairly lofty. In fact, my mother once asked me why I read such ponderous books. I think she might have appreciated it if I had lightened up a bit.
Book that changed your life:
I read across genres and have always been attracted to books on metaphysics and New Age spirituality. It's tough pinpointing which ones impacted me most, but I think I'd have to go with Spiritual Growth by Sanaya Roman. I read it so many times that most of the principles are now a natural part of how I think, cope with challenges and approach life in general.
Favorite line from a book:
I've fallen in love with countless book passages, quotes and metaphors. My absolute favorite is a wise and eloquent statement by Paul Atrieides, the young prodigy in Frank Herbert's Dune. However, the quote is far too long to include. So, I'll go with an excerpt from another classic passage from Dune: "Fear is the mind-killer. Fear is the little-death that brings total obliteration. I will face my fear."
Five books you'll never part with:
None! LOL. I recently moved across the country and could take only what would fit in my car and my cousin's van. I was fine with getting rid of stuff--until it came to my books. That was so hard. One thing's for sure: I'll never give up my Toni Morrison collection; Wild Seed by Octavia Butler; The Soul of an Octopus by Sy Montgomery; A Course in Miracles by Helen Schucman; or The Secret Life of Plants by Peter Tompkins and Christopher Bird, who explore the emotions and telepathic ability of plants.
Book you most want to read again for the first time:
Sula by Toni Morrison. Here's why: one afternoon, I needed to go to the mall to buy a purse. Before leaving, I grabbed a bite to eat and began reading for what I thought would be 20 minutes. One minute led into another and another and, when I looked up, the sun was going down. I had forgotten all about my errand. The book was so riveting that I actually finished it that night. That's definitely an experience I'd like to repeat. Ditto for One Hundred Years of Solitude by Gabriel García Márquez. It's a pretty thick book, but I remember looking forward to getting off work each day just so I could get back to it. When it ended, I was rather disappointed, because I wanted to read more.