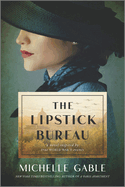 As World War II drags on, Czech American lawyer and journalist Nikola "Niki" Novotná is recruited to the Office of Strategic Services. Disappointed at first by her new assignment, Niki nonetheless comes to relish her role in Morale Operations. Michelle Gable (The Bookseller's Secret; The Book of Summer) follows Niki's twisting journey to create anti-Nazi propaganda and discover her family's fate.
Gable opens The Lipstick Bureau, her gripping sixth novel, in 1989, as Niki and her grown daughter, Andrea, attend a dinner in honor of "The Ladies of the O.S.S." Though Andrea knows vaguely that her mother worked in intelligence during the war, the evening prompts Niki to reveal more of her wartime story--including some shocking family secrets.
Most of Niki's work, and the novel's action, takes place in occupied Rome, flooded with soldiers from various Allied forces and Italians barely scraping by. Gable creates engaging characters, each with their own motivations for working in a backwater branch of intelligence: all of them, Niki included, are escaping difficulties in their prewar lives. Niki eventually comes up with a brilliant (if morally complex) scheme to use German POWs to drop their propaganda behind enemy lines. Practical and hardheaded, she forges ahead despite resistance and threats from her superiors, convinced that her plan will help hamstring the Nazi forces as the war wanes.
Inspired by real-life figures such as Barbara Lauwers and New Yorker cartoonist Saul Steinberg, The Lipstick Bureau is a cracking good story, and a tribute to the courage and ingenuity of intelligence agents whose work has remained secret for so long. --Katie Noah Gibson, blogger at Cakes, Tea and Dreams