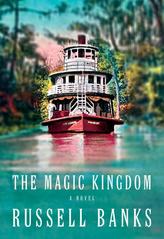 Russell Banks, "whose vivid portrayals of working-class Americans grappling with issues of poverty, race and class placed him among the first ranks of contemporary novelists," died January 7 at age 82, the New York Times reported. The author of 21 works of fiction and nonfiction, Banks "brought his own blue-collar background to bear in his writing, delving into the psychological pressure of life in economically depressed towns in the Northeast, their stark reality often shadowed by the majestic Adirondacks of northern New York State."

In 1963, at the age of 23, Banks went to the Bread Loaf Writers Conference at Middlebury College in Vermont, where he met his first mentor, the novelist Nelson Algren. He then attended the University of North Carolina at Chapel Hill, where he co-founded a small literary press and magazine, Lillabulero, "and entered into the social ferment of the civil rights era, becoming involved with Students for a Democratic Society and participating in protests," the Times wrote. During this time he published two volumes of poetry; a first novel, Family Life (1975); and his first short-story collection, Searching for Survivors (1975), which won an O. Henry Award.

Next came Hamilton Stark (1978) and The Book of Jamaica (1980), novels that "were ambitious works that sought to dismantle the unfulfilled promises of America through the gimlet eye of the white working class," the Times noted. "Continental Drift had its roots in The Book of Jamaica. Beginning in 1976, Mr. Banks spent a year and a half in Jamaica on a grant from the Guggenheim Foundation; while there he became obsessed with the history of that island nation as well as the entire Caribbean basin."

Banks spent the 1980s and '90s "solidifying his craft" in works like Affliction (1989) and The Sweet Hereafter (1991). Film adaptations of both works also brought him recognition beyond the literary world. The Sweet Hereafter (1997), adapted and directed by Atom Egoyan, received two Academy Award nominations, and Affliction (1997), adapted and directed by Paul Schrader, garnered two Oscar nominations, with James Coburn winning for best supporting actor.

His novels Continental Drift (1985) and Cloudsplitter (1998) were finalists for the Pulitzer Prize for fiction. Times book critic Michiko Kakutani praised Continental Drift as a "visionary epic about innocence and evil and a shattering dissection of contemporary American life." The book also received the John Dos Passos Prize for Literature in 1985. His most recent novel, The Magic Kingdom, was published last year and is available from Knopf.

The Times said that Banks's own intentions as a writer are summed up in his narrator's closing lines in Continental Drift: "Good cheer and mournfulness over lives other than our own, even wholly invented lives--no, especially wholly invented lives--deprive the world as it is of some of the greed it needs to continue to be itself. Sabotage and subversion, then, are this book's objectives. Go, my book, and help destroy the world as it is."