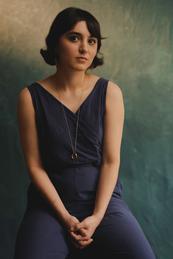 photo: Dena Denny
Antonia Angress was born in Los Angeles and raised in San José, Costa Rica. She is a graduate of Brown University and the University of Minnesota MFA program. Her debut novel, Sirens & Muses (Ballantine, July 12, 2022), follows four artists drawn into a web of rivalry and desire at an elite art school and on the streets of New York.
Handsell readers your book:
Sirens & Muses is a campus novel about artists finding their way through life and love. It's queer, sexy and cerebral--and funny! Think The Marriage Plot meets Fates and Furies meets Portrait of a Lady on Fire.
On your nightstand now:
I'm currently reading Lauren Collins's When in French and Frank McCourt's Teacher Man, both as research for my next novel, which is about a language teacher and draws on the years I spent teaching Spanish to elementary and middle school students. In that spirit, I've also been rereading Ms. Hempel Chronicles by Sarah Shun-lien Bynum, one of my favorite novels about a teacher and one of my favorite novels, period.
Favorite book when you were a child:
I was obsessed with Alice's Adventures in Wonderland and can still recite "The Walrus and the Carpenter" from memory (this is my best--and only--party trick). One of my cherished possessions as a kid was this beautiful hardcover edition of The Annotated Alice, featuring Martin Gardner's extensive annotations on the Victorian references, mathematical concepts and wordplay that Lewis Carroll embedded in the story.
Your top five authors:
Five is too few, but if I must: Zadie Smith, Jennifer Egan, Donna Tartt, Susan Choi and Sarah Waters.
Book you've faked reading:
I majored in comparative literature in college, and there was a literary theory course that everyone had to take. I muddled through a whole bunch of Derrida that semester, but I could not possibly tell you what that guy was going on about.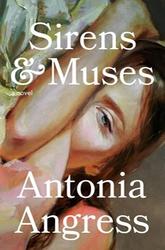 Book you're an evangelist for:
So many! Bobcat by Rebecca Lee is the best short story collection you've never heard of. My Name Is Asher Lev by Chaim Potok and The Flamethrowers by Rachel Kushner are my two favorite examples of the Künstlerroman (literally, "artist's novel"--a genre I'm very into, obviously). Kaitlyn Greenidge's We Love You, Charlie Freeman is a book I have a hard time describing to people, but trust me when I say it's brilliant. I loved Lee Cole's Groundskeeping so much that I hunted down his e-mail address and sent him a fan letter. While writing Sirens & Muses, I read tons of campus novels; my favorites are Make Your Home Among Strangers by Jennine Capó Crucet and The Idiot by Elif Batuman. And I can't stop raving about The Final Revival of Opal and Nev by Dawnie Walton, which needs to be adapted into a prestige TV series.
Book you've bought for the cover:
Mostly Dead Things by Kristen Arnett--for the cover (that flamingo!) and the content, which is marvelous.
Book you hid from your parents:
My parents are both big readers. They let me read whatever I wanted and encouraged me to borrow books from their shelves. There was one exception, though: American Psycho by Bret Easton Ellis. Once, when I was maybe 13, I took it, thinking it looked interesting, and my mom freaked out and confiscated it. She told me I could read it when I was older, and we had a big fight about it. I remember trying to steal it back from her a couple of times until finally she hid it from me. After that, I kind of lost interest and to this day I've never read it.
Book that changed your life:
Curtis Sittenfeld's Prep was one of the first adult literary novels I read outside of school, and it made me want to be a writer. She remains one of my favorite authors.
Favorite line from a book:
"In the beginning the Universe was created. This has made a lot of people very angry and been widely regarded as a bad move." --Douglas Adams, The Restaurant at the End of the Universe
Five books you'll never part with:
I hold a special place in my heart for books that have made me cry, TikTok teen-style: The Great Believers by Rebecca Makkai, The Five Wounds by Kirstin Valdez Quade, The Angel of History by Rabih Alameddine, Salvage the Bones by Jesmyn Ward, The Miseducation of Cameron Post by Emily M. Danforth and Fun Home by Alison Bechdel. (I know that's six; a lot of books have made me weep.)
Book you most want to read again for the first time:
I'm a sucker for love stories, mysteries and books about books, and A.S. Byatt's Possession is all three. Spellbound, I read it in a single sitting.