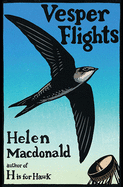 In Vesper Flights, Helen Macdonald (H Is for Hawk) showcases her affinity for the essay in her quest for readers to see "the glittering world of non-human life around us," and see it through other eyes, to realize the world does "not belong to us alone. It never has done."
Topics include a captive wild boar provoking introspection about Macdonald's place in the world; the territorial anxiety over wild animals "intruding" in human spaces; an autistic boy's mutual delight with Macdonald's parrot; a young refugee smuggled into the U.K.; and the complexity of avian navigation.
The poet in Macdonald moves these subjects toward mystery. A night flight of migrating birds delicately amazes: "Watching their passage is almost too moving to bear. They resemble stars, embers, slow tracer fire." A peregrine falcon seems to make the atmosphere heavier as it flies, "the barred feathers of his chest, his black hood, a faint chromatic fringe ghosting him with suggestions of dust and rainbows. He's exquisite, the colour of smoke, paper and wet ash."
She crafts brilliant descriptions, drawing wisdom from her observations: "It's true that time walking in a forest can be beneficial to our mental health. But valuing a forest for that purpose traduces what forests are: they are not there for us alone." She takes hard-won emotional solace from "knowing that animals are not like me, that their lives are not about us at all."
Helen Macdonald set the bar high with H Is for Hawk; with Vesper Flights, one of the Washington Post's 10 Best Books of 2020, she still soars into the ether. --Marilyn Dahl