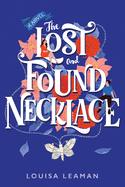 Louisa Leaman (The Second Chance Boutique) turns her art history credentials to lovely use in The Lost and Found Necklace, which traces a distinctive art deco necklace through five generations of an English family.
As The Lost and Found Necklace begins, Jess Taylor is trying to start her life over. Jess has always been a thrill-seeker, an adrenaline junkie who is obsessed with jewelry. But a recent injury has been difficult to overcome, and Jess is trying to settle down. She's started a mail-order jewelry business, and she's dating a charming teacher named Tim.
But Jess's grandmother Nancy, another free spirit, is dying in her care home, and she's begged Jess to find the family's dragonfly necklace. The necklace was made by Nancy's grandmother Minnie, who was a rare female designer in the early 20th century. Jess finds it at an auction, but loses in the bidding to a charismatic, curly-haired man named Guy. Desperate to acquire the necklace, Jess finds herself rising to meet several absurd challenges from Guy, and traveling to Wales and to California seeking more answers, much to Tim's dismay.
Leaman does a delightful job weaving the lives of five women into the story of the dragonfly necklace, all the way from Minnie down to Jess. As Jess slowly uncovers the secrets of her ancestors, she not only learns more about the Taylor women, but also about herself. A perfect summer read, The Lost and Found Necklace is an absorbing family saga. --Jessica Howard, bookseller at Bookmans, Flagstaff, Ariz.