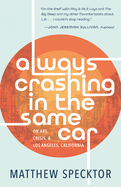 In Always Crashing in the Same Car: On Art, Crisis, & Los Angeles, California, novelist and screenwriter Matthew Specktor (American Dream Machine) offers an empathetic and eloquent set of portraits of nine Hollywood artists and creators of varying prominence, gracefully blending their stories with an account of his own artistic challenges and glimpses of his family's connection to the entertainment industry.
At a time he doesn't specify, but after he had "suffered a kind of crash," Specktor returned to Hollywood, the city where he had grown up and from which he'd "departed in a nervous panic at eighteen." He rents an apartment at the "stone center of Hollywood's mythological grid," 30 yards from the Sunset Strip and across the street from where F. Scott Fitzgerald died in 1940.
Though Specktor thinks of this dwelling as a "launching pad toward a greater, more hopeful future," it seems fitting that the melancholy atmosphere of the place serves as the inspiration for what he calls "meditations on people who soared and then collapsed...." Most of Specktor's subjects are drawn from the film industry, and include well-known figures like Academy Award-winning directors Hal Ashby (Coming Home) and Michael Cimino (The Deer Hunter), whose careers imploded with dizzying speed, along with talented but less prominent artists like actress Tuesday Weld, writer Renata Adler and screenwriter Carole Eastman. One of the most interesting chapters offers a retrospective on musician Warren Zevon.
Specktor's is an affecting reflection on the lure of fame and of how it often eludes those most determined to cling to it. --Harvey Freedenberg, freelance reviewer