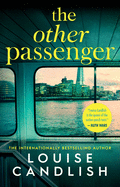 Can a wealthy couple in their 40s maintain a lasting friendship with a poor couple in their 20s without jealousy rearing its ugly head? Louise Candlish's The Other Passenger plots how friendship leads to betrayal, fraud and murder in this scintillating suspense novel.
Jamie and Clare, the older couple, live in a coveted London suburb. Clare is a partner in a successful real estate firm; Jamie made money in marketing. Kit and Melia, the younger pair, are former actors. Kit now works at an insurance company, and Melia was recently hired at Clare's firm. Unfortunately, Kit and Melia's combined paychecks don't add up to much and they are drowning in debt.
Clare learns Melia and Kit live nearby and invites them to dinner. Kit and Melia are astounded by Clare and Jamie's palatial house--until they hear it was paid for by Clare's parents. Kit starts an argument over the unfairness of having to pay exorbitant rent for a modest flat while Clare had a whole house given to her. Melia later apologizes for Kit's outburst and tells Clare that Kit would like to be friends with Jamie. The couples continue to get together regularly, managing to skirt the issue of their inequities in favor of maintaining the friendship. Then Kit goes missing and the police suspect Jamie of murder.
Candlish (Those People) acknowledges being influenced by the double-crossing plot of the film Double Indemnity and singer Lana Del Rey's slow-burn cover of "Doin' Time" while writing. And, yes, the plot comparisons and overall pacing are undeniable, but Candlish culls from these sources to create a distinctive and captivating read. --Paul Dinh-McCrillis, freelance reviewer