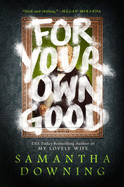 English teacher Teddy Crutcher despises entitlement--it has a "particular stench. Pungent, bitter. Almost brutal." But in Samantha Downing's slyly wicked For Your Own Good, the elitist Belmont Academy overflows with those who believe they are better than others.
In just three novels, Edgar finalist Downing (My Lovely Wife; He Started It) has carved a niche with sharp plotting and subversive, unethical characters whose nastiness makes them riveting. Despite that Teacher of the Year plaque on his chalkboard (he eschews smartboards), Teddy abhors almost all his students and their wealthy, conceited parents, whose antics make the celebrity college scandal seem like kindergarten. Teddy believes he needs to teach them to be better people by showing them failure. A bright but "smug" student gets a B on a report worth an A, and if his parents complain, a heavier assignment. Colleges receive letters accusing a girl of cheating because Teddy considers her "an arrogant snob," even though she aces every assignment. A little poison from plants he grows can cause colleagues' uncontrollable vomiting or diarrhea in public. And if people die--well, it won't be the first time.
The "morally bankrupt" Teddy thrives on a casual cruelty that he hides in plain sight with his affable personality. But Teddy isn't the only teacher with hatred in his heart as the growing body count turns the once stellar Belmont Academy into the trending #HomicideHigh.
Downing invests For Your Own Good with a delicious dark wit that well serves her realistic, quirky characters. --Oline H. Cogdill, freelance reviewer