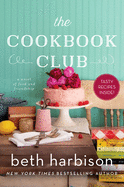 Over the course of 13 novels, author Beth Harbison (Every Time You Go Away; Chose the Wrong Guy, Gave Him the Wrong Finger) has demonstrated that she knows what makes women tick--and what ticks them off. In The Cookbook Club, her 14th book, she dishes up an ensemble cast of richly drawn characters: three women, strangers from the Washington, D.C., area, who are each in the throes of a personal conflict and romantic dilemma.
When solid and sensible Margo throws out her philandering husband, she discovers an online cookbook club founded by Trista, a single, take-charge, former lawyer. Trista, fired from her job, ditches her legal career, invests in a bar and restaurant and forms the cookbook club in an effort to nurture her passion for trying out new recipes. Her solicitation for group members also draws the attention of jilted Margo and Aja, a loving, good-natured yoga instructor--single and pregnant with a child for whom the baby's very handsome, wealthy, ne'er-do-well father has no interest.
The three women--all near 30 years old and facing new beginnings--forge a friendship bonded by their culinary cravings. When the group gathers each month, they whip up and share a dish, along with recipes. The meetings allow the women to indulge their gastronomic appetites while supporting each other through respective challenges.
Harbison's storytelling is full-bodied and sharp. Wit and humor, along with delicious plot twists and a trove of included recipes, sweeten contemporary women's issues. --Kathleen Gerard, blogger at Reading Between the Lines