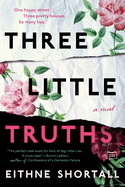 Irish author Eithne Shortall (Grace After Henry) has created a delightfully gossipy, suspenseful little world in Three Little Truths. Perfect for fans of Desperate Housewives or Liane Moriarty's novels, Three Little Truths explores the varied secrets that even the friendliest neighbors may be hiding.
The story is set in Dublin, where the closely terraced houses mean that everyone knows everyone else's business. Pine Road seems like an ideal place to raise a family, but three women, all new to the street, are facing a variety of problems. Martha's family has recently moved to Dublin after a home invasion in Limerick, and she and her teenaged daughters are still struggling with the aftermath. Edie, who inherited her house, is hopeful that she and her husband, Daniel, will be starting a family soon. Robin, who seemed to be destined for great things, somehow has become nothing but the girlfriend of a small-time crook. She finally left her boyfriend after he endangered their son, and they are reluctantly back in her childhood bedroom.
As the weeks elapse, Martha, Edie and Robin, and the rest of the women of Pine Road, will find their lives intersecting in unexpected ways. And their WhatsApp text thread, woven between chapters, helps document the school scandal, neighborly drama and the women's devotion to their families and to the goings-on of Pine Road.
Hilarious and heartwarming, Three Little Truths explores reality in the wake of trauma, new love and the delicate complications that make up a marriage. Shortall may not be well-known to an American audience yet, but Three Little Truths is sure to be widely appreciated. --Jessica Howard, bookseller at Bookmans, Tucson, Ariz.