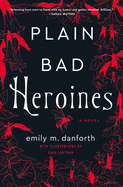 In her adult horror debut, Emily M. Danforth (The Miseducation of Cameron Post) offers an indulgent greenhouse of grotesqueries shadowed by gothic elements and pepped up with metafiction and mystery, illustrated with deliciously unsettling black-and-white line drawings by cartoonist Sara Lautman.
In 1902, at Brookhants School for Girls in Rhode Island, student Clara Broward falls into a vast subterranean nest of eastern yellow jackets while fleeing from her cousin and toward her sweetheart Flo Hartshorn. The insects sting both girls to death. Their deaths mark the beginning of a disastrous time for Brookhants, as a malignant force, tied to a red-bound book, targets students and tears at the already strained bond between principal Libbie Brookhants and her life partner, Alexandra "Alex" Trills.
In the present day, Brookhants is known as one of the U.S.'s most haunted sites. High-profile horror film The Happenings at Brookhants is set to begin production at the old school, starring current it-girl Harper Harper and the normcore Audrey Wells. The film's writer, Merritt Emmons, is invited to join the preproduction team. Sparks of romance and conflict fly among the three 20-somethings right away, their chemistry intense and volatile. Each woman has her own dreams and her own agenda. Strange occurrences befall each of them, and the buzzing of yellow jackets follows them to Brookhants, where a labyrinth of suspicion, betrayal and malevolence awaits.
Danforth delivers her narrative in an urbane, droll voice akin to a Victorian novelist writing for BuzzFeed. And the brooding atmosphere and careful characterization make Plain Bad Heroines an easily cultivated obsession. --Jaclyn Fulwood, blogger at Infinite Reads