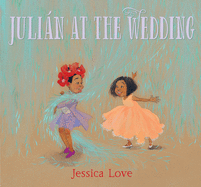 Introduced in author/illustrator Jessica Love's 2018 Julián Is a Mermaid, self-expressive Julián returns in Julián at the Wedding, this time with a fabulous partner-in-play, Marisol. Repeating her memorably affecting formula of minimal text/maximum art, Love again offers another sparkling gift to young audiences.
Julián and his grandmother are back, making a stupendous entrance parading down a sidewalk side-by-side. Sartorially magnificent, the resplendent duo are clearly heading to a special event. They arrive at their destination on the title page, cleverly revealing the titular wedding as Julián and Abuela break the fourth wall to share their excited anticipation with readers. They're greeted by Marisol in a peach, fluffy gown (jauntily accessorized with a backwards periwinkle baseball cap) and her own grandmother in geometric finery.
Julián is bedecked with a magenta corsage and Marisol's hat has been replaced with a crown of red anemones. When they meet the gorgeous brides, Marisol is handed a basket of petals and Julián is given the cerulean-ribbon leash of the lovebirds' dog, Gloria. While the older guests enjoy the splendid reception that follows, Julián and Marisol have other plans. Under watchful grandmotherly gazes, the pair dash off to "a fairy house" of willow trees, where adventures abound. Wardrobe malfunctions prove inevitable for Marisol, whose rambunctious energy matches Gloria's. Julián, however, "has an idea," and inventively mixes-and-matches fitting attire.
Love's watercolor, gouache and ink illustrations feature explosive color and flowing lines. The art is enhanced by Love's exacting details that add breathtaking drama to the lively, inviting scenes. Once more, her near-wordless art adroitly and delightfully captures the transformative power of being seen: just as Abuela confirmed Julián's singular selfhood in Julián Is a Mermaid, Marisol gets her own affirmation here from her own grandmother. Love achieves another perfect union. --Terry Hong, Smithsonian BookDragon