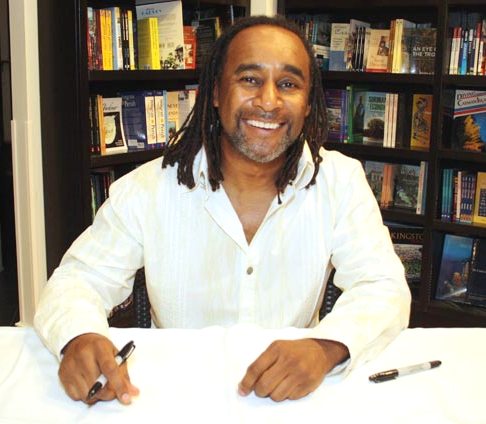 Eric Jerome Dickey, "who blended crime, romance and eroticism in Sister, Sister, Waking With Enemies and dozens of other stories about contemporary Black life," died January 3, the Associated Press reported. He was 59. A native of Memphis, Tenn., Dickey moved to Los Angeles after college and worked as a software engineer in the aerospace industry, but found himself drawn to the arts. He "was an aspiring actor and stand-up comic who began writing fiction in his mid-30s and shaped a witty, conversational and sometimes graphic prose style," the AP wrote.
His nearly 30 novels include Bad Men and Wicked Women, Milk in My Coffee, Cheaters, Chasing Destiny, Liar's Game, Between Lovers, Thieves' Paradise, The Other Woman, Drive Me Crazy, Friends & Lovers, Naughty or Nice and the Gideon crime fiction series (Sleeping with Strangers, Resurrecting Midnight and more). A final novel, The Son of Mr. Suleman, will be released in April.
Dickey also worked on the screenplay for the 1998 movie Cappuccino, wrote a comic book miniseries for Marvel, and contributed to such anthologies as Mothers and Sons and Black Silk: A Collection of African American Erotica, the AP noted.
Becky Odell, Dickey's publicist at Penguin Random House, said, "His work has become a cultural touchstone over the course of his multi-decade writing career, earning him millions of dedicated readers around the world."
"I am truly saddened to hear about the passing of Eric Jerome Dickey," author Roxane Gay tweeted. "His were some of the first novels I ever read about black people that weren't about slavery or civil rights. He was a great storyteller."
Memphis bookstore Novel posted on Facebook: "We are crushed to learn of the untimely passing of native Memphian and longtime friend of our bookstore in all its iterations, Eric Jerome Dickey. The Novel team extends our sincerest condolences to the deeply, devotedly beloved author's family, loved ones, and longtime readers."
Loyalty Bookstores, Washington, D.C. and Silver Spring, Md., tweeted: "We are saddened to hear of the passing of Eric Jerome Dickey, a truly influential Black author. From the pages of Marvel comics to his tender, tantalizing novels, he created a space to depict Black Americans that was more than trauma and suffering."