Please wear a face mask. As requests go, this one seems simple enough, but customer resistance to masking up is proving to be a challenge for many retailers, including bookstores.
"Pro Business = Pro Mask. It's Just that Simple," Magic City Books, Tulsa, Okla., noted recently. Forbes magazine agrees, reporting this week that analysts at Goldman Sachs "suggested that a federal mask mandate would 'meaningfully' increase mask usage across the country, especially in states like Florida and Texas, where masks are not currently required." Reducing the spread of the virus through mask-wearing, the analysts found, could be a substitute for strict lockdown measures that would otherwise shave 5%--or $1 trillion--off the U.S. GDP.
My state's governor, Andrew Cuomo, has been a face mask advocate for months, and now even "a number of prominent Republicans and conservative media members [with one notable exception] have changed their tune on wearing face coverings," Forbes wrote.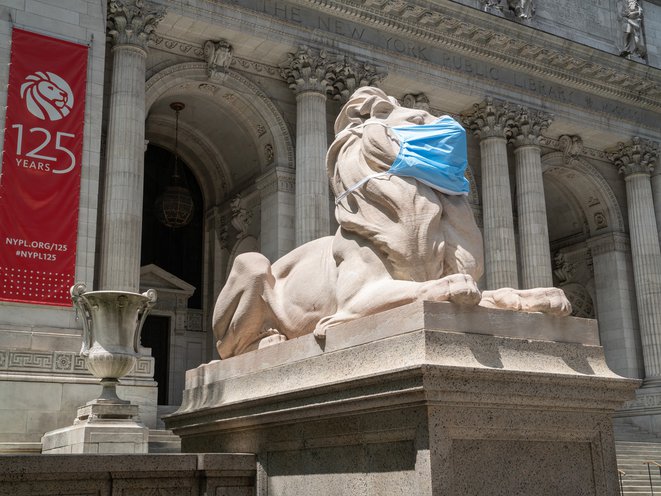 (photo: Jonathan Blanc/NYPL)
Given the ongoing video flood of angry, maskless customers gone wild, it was actually refreshing to see the obsession over Star Trek actor Chris Pine all masked up in Los Angeles while carrying a stuffed Skylight Books bag. Even Patience and Fortitude, the New York Public Library's beloved lions, are setting an example.
And yet, there's no shortage "problem children" (i.e., furious adult customers). Irish bookseller Joan Lucey of Vibes and Scribes, Cork, asked customers to wear a mask "for the safety of our staff and our customers and if they didn't have one, we were happy to provide them with one and they could make a donation to the Cork Sexual Violence Centre. But we were very surprised when we discovered this really bad reaction online with some people going on to our Facebook page, accusing us of trying to humiliate them and others saying that they were going to blacklist us.... I admit we didn't consult with anybody but to be honest I didn't feel that it was terribly relevant, I thought I was doing the right thing for my staff and my customers and to be fair, most of our customers have been supportive."
In a blog post, Jessica Peterson White, owner of Content Bookstore, Northfield, Minn., suggested a connection between anger at being asked to wear a face mask and white privilege, noting: "This week, I started to speculate that these (white) people in my shop, when they won't look at me and resist my friendliness so aggressively, are feeling shame--a shame that is deeply unfamiliar to most white people.... It's because one of the cornerstones of whiteness, one of its defining characteristics, is the entitlement to be as you are, as you wish to be, in public spaces."
A serious attitude adjustment is in order for these customers because we'll all be masking up for the unforeseeable future.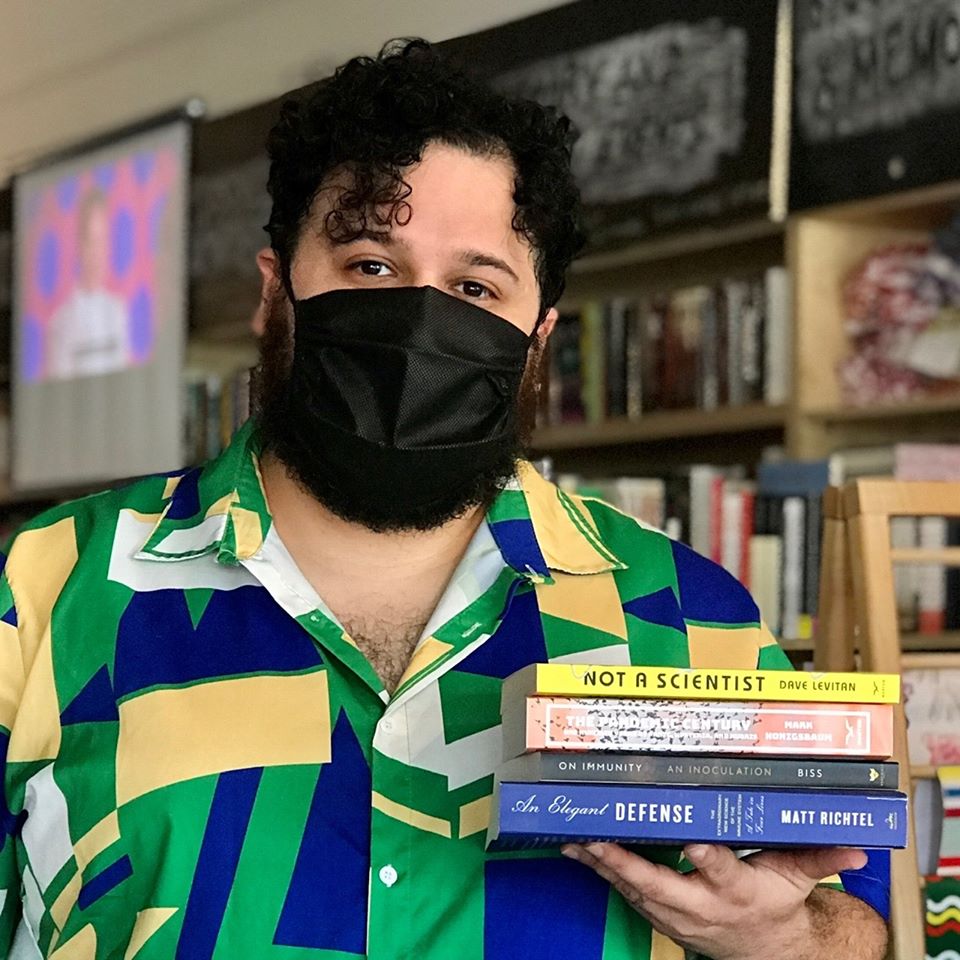 At Avid Bookshop
"It appears to be a simple, unassuming, black face mask and yet, when worn correctly, it's proven to drastically reduce the chances of transmitting Covid-19," Avid Bookshop, Athens, Ga., posted on Facebook, adding: "We are offering these masks at wholesale cost (plus a tiny bit to cover the costs of getting them in bulk to Avid)! We are doing this in order to make sure everyone can have a spare or two when they're about to head out the door."
Booksellers are adapting quickly, as they do, and trying to add an element of fun and creativity to an otherwise serious, even life-saving, necessity. For example, a line of face masks from Out of Print and the American Booksellers Association has been the biggest new-product launch in the company's 10-year history.
Whistlestop Bookshop, Carlisle, Pa., is offering "15 of these beautiful handmade face masks in store right now (including a selection in a somewhat larger, 'broad' format)! They can also be customized by request. Each one is $10 and all proceeds benefit @ethos.fitness ! Keep yourself safe in style and benefit a great local business."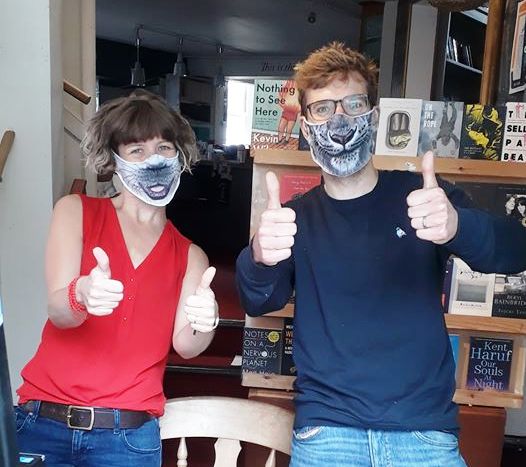 At the Book Hive
British bookseller the Book Hive in Norwich noted that "cotton masks from INANNA'S MAGICAL GIFTS are great--not only can you look like a magnificent member of the animal kingdom, but you can also easily re-use the mask every day with a quick hand-wash and dry in the evening. Go get 'em, folks!"
But wait, there's more:
Masked bookmark: Canadian bookshop Munro's Books, Victoria, B.C., posted: "Designed in 1970 by the great Martin Springett, our iconic bookmark gets a 2020 update."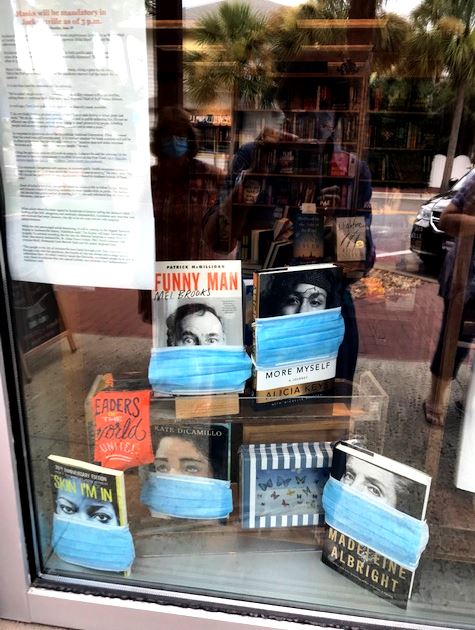 At the BookMark
Masked books: Rona Brinlee, owner of the BookMark, Neptune Beach, Fla., told us Tuesday that she "has been requiring masks to all browsers. The city just made them mandatory yesterday at 5 p.m. So we thought we'd honor the moment with our window display of masked books."
Masked founder: Next Page Books, Cedar Rapids, Iowa, just celebrated Founder's Day, the "date in 2012 that Mary Ann Peters opened New Bo Books, the precursor of Next Page Books.... NOTE: We love the fact that Mary Ann wears a mask without any prompting. Just one more reason to admire her!"
How does an independent bookseller celebrate Independence Day during a global pandemic? By masking up and handselling great reads at the proper social distance, damn it!