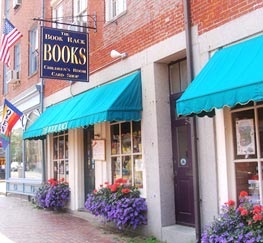 HugoBooks has closed the Book Rack in downtown Newburyport, Mass., because of declining sales and changing reading habits, the Newburyport News reported. The adjoining Coffee Factory, which has several cafes in New Hampshire, has remained open and will expand into the bookstore's space. The Hugo family owns the building, and owner John Hugo and his family have offices and live upstairs.
In an announcement, Hugo said he made the decision to close the Book Rack "with much dismay." Referring to the café, which was originally an Atomic Café branch, he said, "It was a partnership that worked extremely well for five years. However, sales [in the bookstore] began to decline steadily in the fall of 2018 and throughout the usually busy Christmas season and subsequent 2019 summer months."
He added: "People read less in today's fast paced social media and Netflix world and those that do read have taken their purchases largely to Amazon for its cost and convenience. The Bookstore cannot meet the fixed costs any longer. The Hugo Family will continue to operate its other three stores in Andover and Marblehead. Keep reading and keep shopping locally."
This is the second major recent change in business for HugoBooks. During the summer, Hugo sold Cabot Street Books & Cards in Beverly, Mass., to Meg Wasmer and Julie Karaganis, who renamed it Copper Dog Books. (Wasmer had been Cabot Street's manager and Karaganis was a bookseller there.)