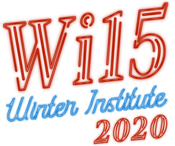 The American Booksellers Association has announced the names of 69 booksellers who will receive scholarships to attend Winter Institute 15 next January in Baltimore, Md., Bookselling This Week reported.
The scholarships will cover the conference fee, four nights at a hotel in the ABA block and transportation costs up to $400. Booksellers at any ABA member stores who had never attended Winter Institute or not attended in the last seven years were eligible for the scholarship. A 70th scholarship winner will be drawn from booksellers who drop off their business card at the ABA booth during any of the fall regional trade shows.
"We are enormously grateful for the generous support of our sponsors," said Matt Zoni, director of development and publisher relations for the ABA. "In addition to lead sponsor Ingram, this year we have over 100 large and small publisher sponsors without which the Winter Institute would not be possible and which have contributed to funding an extraordinary number of bookseller scholarships. We encourage all ABA members to join us in thanking our sponsors for their ongoing commitment to independent bookselling."
Registration for Wi15 will open tomorrow, September 18. The full list of scholarship winners can be found here.