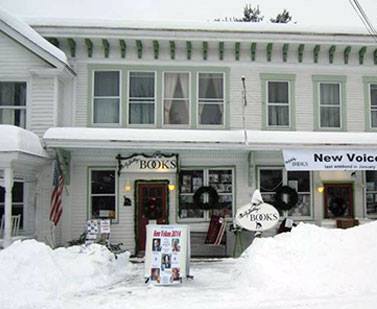 The former Phoenix Books Misty Valley in Chester, Vt., closed Wednesday, but is reopening today as Blair Books & More under the ownership of Vicki Thornton. The 33-year-old bookstore is housed in a historic 1848 Victorian building on the village green. Store manager Katie DeSanto had announced earlier this month that Thornton would officially purchase the store August 29.
Phoenix Books, with three other locations in Vermont, purchased the store in 2016 with the intention of finding a local co-owner to run the business. When those efforts were not fruitful, DeSanto, daughter of Phoenix Books' owner Mike DeSanto, relocated from her home in East Hardwick, Vt., to Chester. A controversial series of events prompted the bookshop's temporary closure last November.
"I ran the store on my own through the holidays and realized I needed help," DeSanto noted. "I survived on good espresso from Scott Blair, the owner of Southern Pie Cafe, who has been a gracious neighbor and friend to me from the beginning. One bleary-eyed morning after Christmas, Scott told me his mother, Vicki, was an avid reader and would love to work in a bookstore. I hired Vicki in January."
DeSanto, who is returning to the Burlington & Essex stores to work on marketing Phoenix, said Thornton "is a natural and I'm thrilled the store will find the energy and vigor it needs under her full ownership. Vicki's family is ready for their new adventure and she looks forward to serving the community with a bookstore for years to come."
Thornton told the Vermont Journal: "I love this place and have worked closely with Katie and Mike to find a sustainable path for the store to grow and thrive. My family is very excited about our new adventure and we look forward to serving the community with a bookstore for years to come."
In addition to a curated selection of books for all ages, Blair Books & More will offer locally crafted gifts, toiletries, and jewelry and will continue to carry premium greeting cards, stationery, puzzles, and literary-themed gifts, the Journal noted.
"I love books," Thornton said, "but I would have never thought of it as a career. It's hard to get into the business when there are so few independent stores and Amazon is putting those out of business." The Chester Telegraph noted that she had studied accounting in college and has been a bookkeeper, "so one vital aspect of the business was filled. And the other parts, she seemed to be picking up on the job."
Thornton said she and the DeSantos have been working on the purchase "for a couple of months. We had hoped that it would be by the end of July. But it took a bit longer." She describe the name change as representing "a fresh start to revitalize (the store) with its new name and a legacy for my children and grandchildren.... I feel that this space and where it is located is vital to the community. Can you imagine this as an empty space on the Green?"