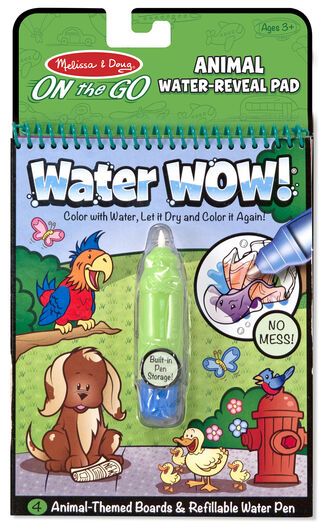 At Main Point Books in Wayne, Pa., owner Cathy Fiebach has had a lot of success recently with a variety of kid-oriented sidelines such as Crazy Aaron's Thinking Putty and Melissa & Doug toys. She reported having trouble keeping Melissa & Doug's Water Wow toys in stock, as many parents buy them for their children while they wait for their tables at nearby restaurants, and Peter Pauper's "Hug a..." kits, such as its Hug a Hedgehog Kit, have also been very popular. Fiebach added that her store has done well with some relatively recent additions such as nightshirts from Relevant Products and reading glasses from Franklin Eyewear.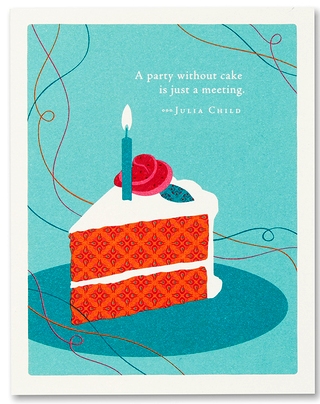 From Positively Green
Concerning locally or regionally made sidelines, Fiebach said her store carries postcards, coloring books and bookmarks made by a local artist named David Fox, all of which do very well. As for perennial favorites, Fiebach said her store does very well with socks, and while Blue Q socks are particular standouts, she's also brought in Ozone and Funatic socks. Greeting cards are also a huge part of the store's nonbook offerings, and Fiebach said her two most successful lines are Shannon Martin and Compendium's Positively Green. And looking ahead to the holidays, Fiebach said anything that acts as a stocking stuffer does well, such as Running Press's "little box of..." series.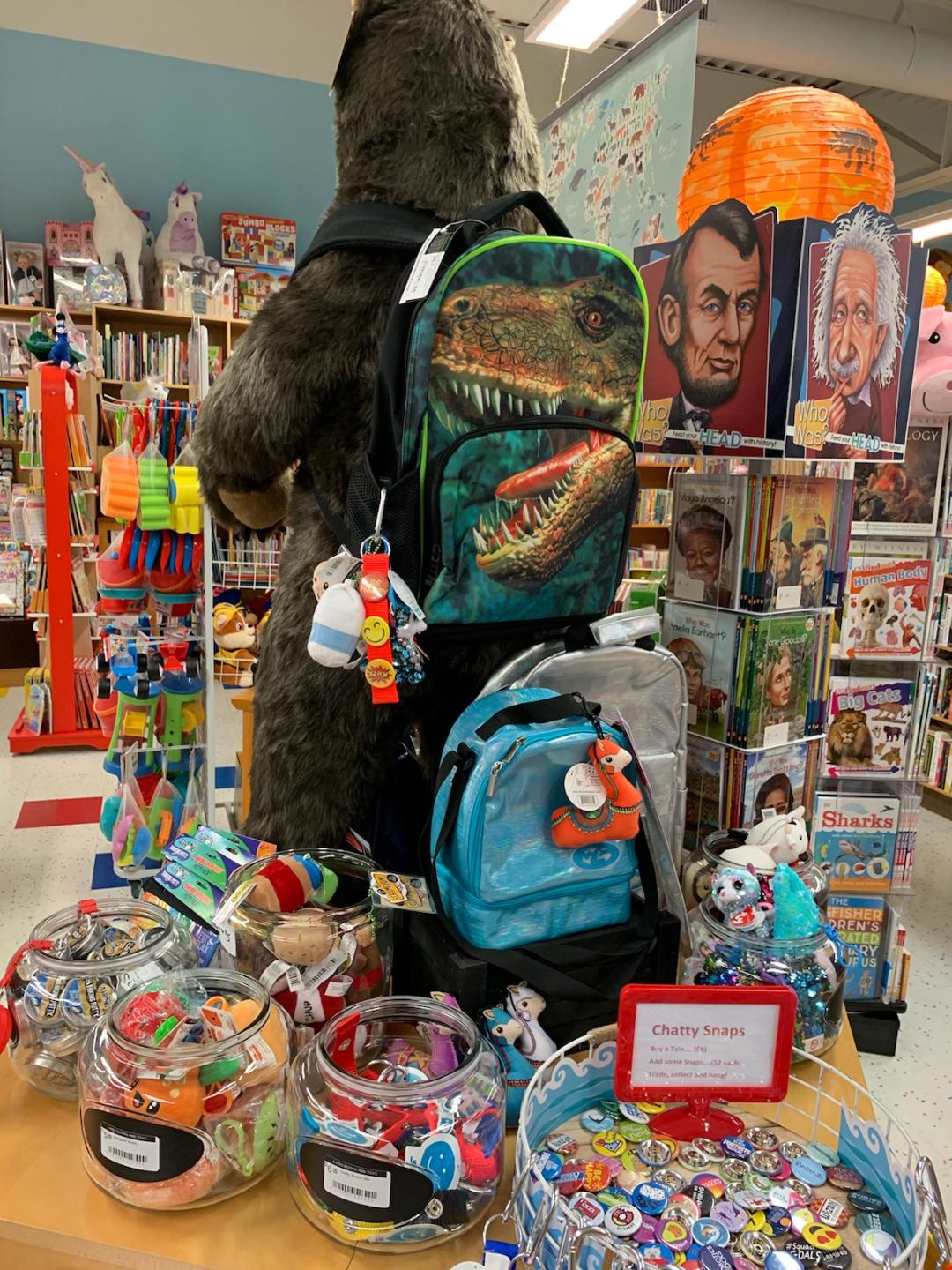 Display at 4 Kids featuring backpacks, clips and other supplies.
In Zionsville, Ind., 4 Kids Books & Toys is in the midst of back-to-school shopping, and owner Cynthia Compton said backpack clips are hugely popular this year. While Compton is selling a variety of the clips, the ChattySnaps line is a particular standout. Kids and adults can snap individual buttons onto the clips in order to personalize them. Other strong sellers at the moment include Crazy Aaron's Thinking Putty, which has also gotten into the backpack clip game. Compton also reported a resurgence in the popularity of board and card games for her store. Pairzi, made by the makers of the game Tenzi, is particularly popular at the moment, and Rubiks Race by University Games is also performing well.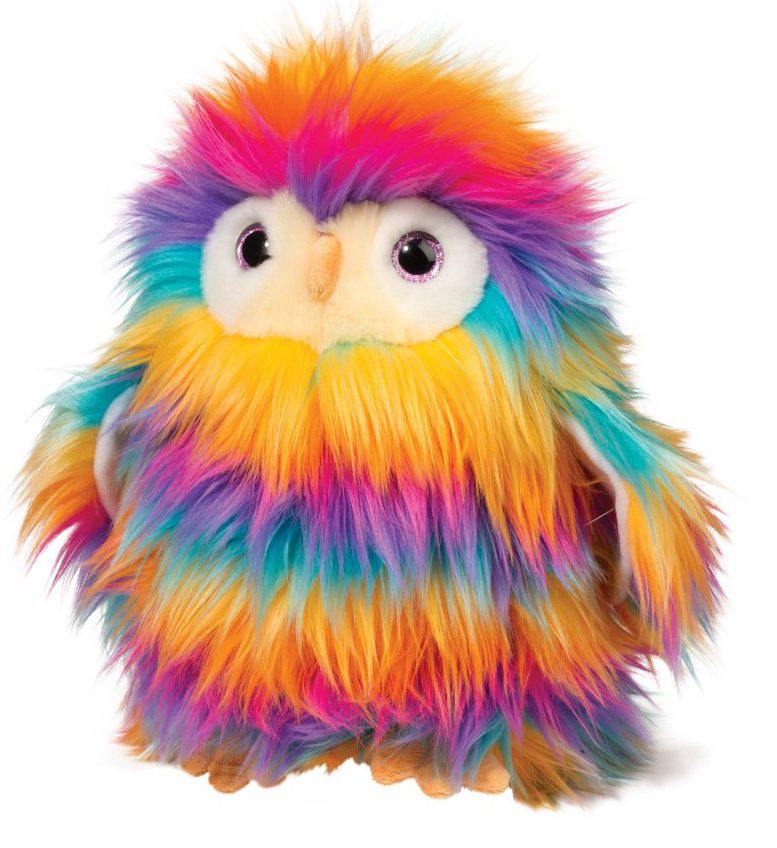 From Douglas Cuddle Toy
In the category of "cool stuff to fidget with," Compton pointed to Shashibo Cubes from Fun in Motion Toys and Magnetic Balls from Speks as popular items, while in plush, she said Douglas Cuddle Toy's Rainbow Fuzzles have done well. When asked whether she's seen any price increases due to tariffs, Compton said several of her manufacturers announced increases early in the summer, but most seem to have adopted a "wait and see" approach. At the same time, though, she said she's gotten the sense that other retailers might be ordering a bit more slowly than normal, due to worries about tariffs, which leads her to worry about product availability during the holiday season. To that end, Compton said she'll rent offsite storage space earlier than usual this year and "take in product a little sooner."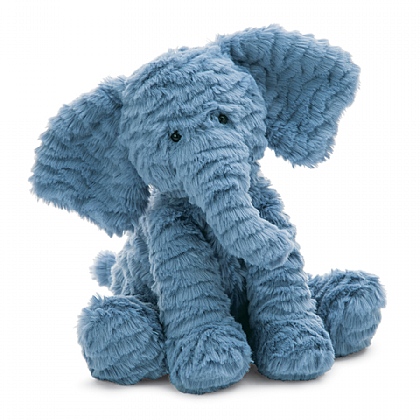 from Jellycat
July Poling, sidelines buyer at Red Balloon Bookshop in St. Paul, Minn., reported that JellyCat toys are often among the store's best performing sidelines, along with toys and accessories from Streamline, art supplies from Ooly and especially puppets from Folkmanis. Poling added that Red Balloon also sells "so much" from Out of Print, particularly its T-shirts and onesies. In terms of new additions, Poling said the store has had tons of success lately with candles from Frostbeard Studio, which is in the Twin Cities. On the subject of other local sidelines, Poling explained that they have several lines of cards made by local artists and illustrators. Most of the store's cards, in fact, come from relatively small suppliers, with Peaceable Kingdom perhaps being the largest.
When asked about any other non-book items that she considers to be perennial favorites, Poling pointed to Kids Preferred, which makes a variety of licensed toys featuring brands like Disney, Peter Rabbit and Care Bears, as well as MerryMakers dolls. Poling also mentioned the company The Winding Road, which sells handmade goods from artisans around the world. She noted, too, that while most of Red Balloon's sidelines are meant for children, there are some adult items, such as mugs, some Chronicle games and the Sad Shop greeting card line. --Alex Mutter