Yankee magazine asked associate editor Joe Bills, who is also co-owner of Escape Hatch Books in Jaffrey, N.H., for a list of his favorite bookstores in the region.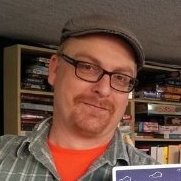 Joe Bills
"Do you share our love for independent bookstores?" Bills wrote. "Fortunately, New England is home to many fine shops carrying a wide assortment of books, many with additional used selections and some serving coffee. What more could you ask for?...
"It has been said that I never met a bookstore I didn't like, and I think that is probably true. Big or small, focused or eclectic, bookstores are entertainment, education, relaxation and inspiration all at once. New England is blessed by many wonderful bookstores, and yes, I like them all. But there are some I love."