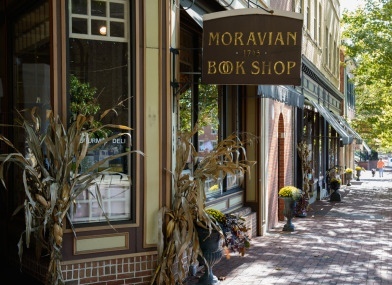 More than 18,000 people have signed an online petition that seeks to stop Moravian College's plan, announced last week, to have Barnes & Noble College take over operations at the Moravian Book Shop, Bethlehem, Pa. Founded in 1745, it's the country's oldest bookstore.
The Moravian Church Northern Province recently transferred ownership of the store to Moravian College, which plans to close its campus store, run by B&N College, and make Moravian Book Shop its campus store. When the announcement was made, there was no word about the future of the bookstore employees, and Michael Corr, a spokesman for the college, said that the book section of the shop will look essentially the same, though "you'll probably see more Moravian [College] gear and more Moravian textbooks for sale."
Started by bookstore supervisor Leo Atkinson, the petition says in part, "The Moravian Book Shop has anchored Bethlehem's historic downtown for generations and has built itself into the premier location for books, gifts and Christmas decorations in downtown Bethlehem. Despite what some people have said in the news, after a few up and down years, the Moravian Book Shop is in a good position in terms of its core business.
"In the last year we have streamlined our operations and modernized the store's back-end systems. We had almost $2 million in sales last year and we are on pace for an even better 2018. In fact, any financial difficulty stems from the Moravian Church's Provincial Elders' Conference (PEC) and the Moravian Book Shop's Board of Directors decision, over the protest of lower management and employees, to take out bad loans to open a location in Allentown in 2015. The Allentown store lost money for two years and when it closed last year the bad loans became due. Despite the Bethlehem location's strengthening position we were not able to absorb the entire cost of the bad loans and so the PEC decided to negotiate in secret to sell the store."
The petition argues that with the change "the mission of the Moravian Book Shop will be lost forever" and that the current bookstore management should be given "a chance to show what we are capable of. I ask you to please tell the college that local small businesses are important for the health of our historic downtown and the entire city."
The petition also says that bookstore employees are being let go and that they can apply for positions at B&N College and Sodexo, a food service company.