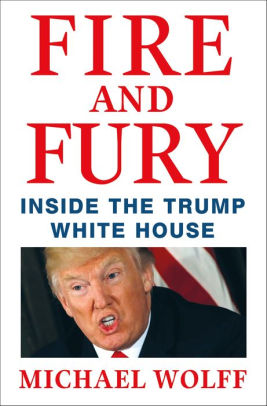 The fire and fury about Michael Wolff's book Fire and Fury: Inside the Trump White House (Holt) has grown so much in the two days after the Guardian's initial unauthorized excerpts that the publisher has moved the book's publication date from next Tuesday to today. This comes after a lawyer for President Trump sent a cease-and-desist letter to Wolff and Holt, demanding that they halt publication of the book, claiming it contains libelous and defamatory material. The lawyer also demanded a retraction and apology.

In a response, Holt confirmed it had received such a letter and said, "We see Fire and Fury as an extraordinary contribution to our national discourse, and are proceeding with the publication of the book."
Demand has been so strong that the book is already out of stock at Barnes & Noble and Amazon.

The book is based on some 200 interviews with people in and close to the Trump Administration. Among the most incendiary comments were former White House adviser Steve Bannon's characterization of a 2016 Trump Tower meeting that included Donald Trump, Jr., Jared Kushner, Paul Manafort and several Russians as "treasonous" and "unpatriotic." In response, Trump tweeted that Bannon had "not only lost his job, he lost his mind." Bannon also called Trump daughter Ivanka Trump "dumb as a brick."

Other striking excerpts include that First Lady Melania Trump cried on election night because she didn't want to live in the White House; that many Trump administration staffers consider Trump an "idiot"; and that Trump is a disengaged, bored leader who doesn't read and is uninterested in policy details.
The White House and allies have bitterly attacked the book and author for its accuracy since apparently no one at the White House understands that legal and other threats in such situations are an extraordinarily effective form of publicity for the book at issue.
Moreover, it's been reported that Wolff has audio recordings of many if not all of his interviews, including those of Bannon. Wolff told the New York Times that he is "wholly comfortable with my numerous sources."

Wolff has been a regular columnist for Vanity Fair, New York, the Hollywood Reporter, British GQ, USA Today and the Guardian. His previous six books include Burn Rate and The Man Who Owns the News.
In a statement, American Booksellers Association CEO Oren Teicher said: "For a sitting president to threaten legal action in an attempt to stop publication of a book is an appalling abuse of executive power. We believe this sort of attempted prior restraint sets a dangerous precedent, and, if successful, would represent a chilling effect on free speech. Not only would it would deter authors and publishers from publishing future books about this president (and any future sitting president), it would also directly undercut our nation's cultural and political legacy of a vigorous exchange and debate of ideas, the hallmark of a healthy democracy.

"ABA staunchly defends the freedom of publishers to publish and sell the titles they deem appropriate, whether it is a book from a controversial author, or whether it is about a sitting president. The First Amendment exists to protect readers from exactly this kind of over-reach."
In addition, National Coalition Against Censorship executive director Christopher Finan said: "The American people have a First Amendment right to read Fire and Fury and other works that contribute to an important public debate, even when they contain statements critical of the president. It is up to the courts to determine if the statements are libelous after they are published. The letter is clearly intended to intimidate Wolff and Henry Holt into withholding information that is embarrassing to the president and his family."