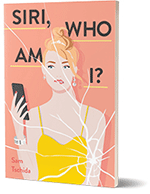 A young woman wakes up in a Los Angeles hospital bed, wearing a yellow Prada gown with a bloodstain on the hem. The only items in her possession are a tube of red Chanel lipstick and an iPhone with a cracked screen. She clearly has great taste--but what happened to her? Where is she? And who is she? In Sam Tschida's smart, snarky debut novel, the young woman (Mia) tries to piece together her life via social media posts, asking a question that may sound flippant but is in fact existential: Siri, Who Am I?
Told in Mia's first-person voice (studded with quippy footnotes and hashtags, also in Mia's voice), Tschida's narrative follows Mia's journey as she discovers she has a concussion and a high blood alcohol level of "mostly Grey Goose. Funny how I know what I drink, even if I don't know where I live," she muses. Soon, Mia is discharged from the hospital (though she wants to cling to her kindly nurse, Brenda) and finds her way back to a chichi house that appears in her Instagram feed, but that is evidently not hers. The housesitter, Max--who turns out to be a kind-hearted neuroscientist--doubts Mia's story at first, but he lets her stay and eventually joins in her quest to recover her identity. Mia combs her Instagram photos for locales and people who might be able to jog her memory, initially reveling in the sun-splashed parties and gorgeous companions in her photos. But as she uncovers more details of her past and present, she starts to wonder: Is the person she's been really the person she wants to be? (While Siri helps out with dates and directions, she remains stubbornly silent on this topic. Mia must wrestle with her questions of identity on her own.)
Tschida's story is at once a zany Memento-style ride, a rom-com of sorts (though Max is coming off a breakup and Mia, of course, has no idea who she is), and a sharp-edged, highly entertaining look at selfie culture. What people choose to share online, and how they share it--with edits, filters, hashtags, strategic cropping--can shape not only others' perceptions of their identities, but also affect how they perceive themselves. In Mia's case, it becomes increasingly clear that the highly edited, glamorous selfies in her feed are only a tiny slice of the story. Driving around Los Angeles in a borrowed Ferrari (it belongs to the absent JP, a French chocolate magnate who owns the house where Mia is staying, and is also apparently her boyfriend), Mia begins to build a mosaic-like picture of her life and career. Though she's genuinely searching for answers, her curiosity gets an uneasy reception even from the people she's supposedly closest to. The details that emerge, along with Max's steadfast kindness and decency, make Mia wonder if this could be a chance to start her life over. Was she a terrible person before, and if so, was she only self-centered, or actually scamming people? Can she build a life and relationships she'll actually be proud of? What is she going to do to pay the bills (of which there are apparently many)? And when will her memory of the night she was injured come back?
The novel's Los Angeles setting is the perfect backdrop for a story about image and reality. Mia's travels take her through neighborhoods that go from gritty to glamorous in mere blocks. Her previous career also straddles the line between glitz and harsh reality, and several encounters with Crystal, a no-nonsense former colleague (and possible frenemy) give Mia a dose of truth about her work and the person she was. Meanwhile, Max is trying to mop up the mess from a breakup with a colleague at his lab, which involved her sabotaging the lie detector they were working on together. Max may be a brilliant scientist--his Instagram handle is "Black Einstein," and he's definitely earned it--but when it comes to figuring out relationships, he may need a little help from the girl who's lost her memory.
Tschida's narrative plays with truth and lies, love and infatuation, and the notion of who a person is, or can become, when all the trappings of modern life (and even their e-mail inbox) are stripped away. Readers may cringe as Mia makes a few missteps--she might be trying, but she's far from perfect, and she can't even blame her head injury for all her mistakes. But Mia's journey is ultimately a story of growth: taking an honest look at uncomfortable truths and deciding to do better. By the end of the novel, Mia has decided to live up to her Instagram handle, @Mia4Realz, no matter how uncomfortable her filter-free life gets.
Wry and witty with surprising depth, Siri, Who Am I? is a satire of our Instagram-obsessed world, but it's also a sweet love story and an incisive look at one young woman's decision to change her life after it's been changed for her. --Katie Noah Gibson
Quirk Books, $15.99, trade paper, 352p., 9781683691686, January 12, 2021