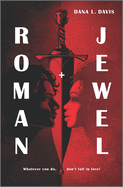 Theatrical flair, competition between a rising star and a pop diva and instalove generate excitement, tension and longing in this #ownvoices YA novel.
Sixteen-year-old Black singer and actress Jerzie Jhames nailed her audition for Roman and Jewel, a Hamilton-style multicultural reimagining of Romeo and Juliet. However, superstar Cinny is cast in the lead role and Jerzie is made her standby. While learning the Jewel choreography, Jerzie kisses Zeppelin Reid, the white boy playing Roman. When a video of her perfect rehearsal goes viral--alongside Cinny tanking her own--the star saves face by claiming Jerzie is her best friend. Jerzie maintains the façade, but Cinny has a catch: "stay away from Zeppelin."
That will be difficult. Zeppelin reads Jerzie's mind as though they've known each other for a million years--he "even asks permission before he touches me." And that kiss? It was like "the spark that ignited the big bang." But, also, there is his arrest... and his stolen designer clothes... and his controlling, manipulative pop phenomenon co-star.... All Jerzie has ever wanted is a Broadway career. Could she have Zeppelin, too, or are they as star-crossed as Roman and Jewel?
This third YA novel by Dana L. Davis (Tiffany Sly Lives Here Now) is a charged love story about passionate characters balancing life, work and relationships. It explores the idea of destiny between couples, of accepting a person's flaws, of daring to grasp everything desired. Exhilarating and irresistible, with musical theater references galore, Roman and Jewel is an entertainingly dramatic and satisfying teen romance. --Samantha Zaboski, freelance editor and reviewer