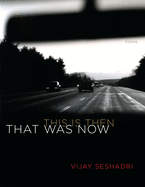 Delving deep into the American psyche, That Was Now, This Is Then by Vijay Seshadri explores the collapse of time and boundaries that accompany aging, the merging of roles of parent and child, poet and reader. The narrator is nostalgic for days gone by, relationships extinguished and shifting memories that are alternately comforting and unsettling.
India-born Seshadri is the poetry editor at the Paris Review and won the 2014 Pulitzer Prize for Poetry for 3 Sections. His Midwestern upbringing features more prominently than his birthplace in That Was Now, This Is Then, his fourth collection, grounded by a powerful, emotionally charged series of elegies to those loved and lost.
From robocalls that disturb his "quarantined thoughts" to being repeatedly rejected for jury duty, the beginning poems, shaped by the poet's signature urbane detachment and sharp wit, make room for inconsolable grief as he confronts the death of both parents and a close friend. The stunning, sentimental core is "Collins Ferry Landing," where the son ponders his depressed father's place on the spectrum of "neuro-cognitive homelessness."
Seshadri (The Long Meadow) is protective of nature, from bears catching salmon to the rhythmic movement of water, with physical space offering a consolation of sorts. In "Visiting San Francisco," a former lover refuses an invitation to meet, still nursing wounds from their relationship. The speaker visits San Francisco anyway, realizing that his affectionate remembrances were actually for the city and not the lover after all.
Seshadri's intellectually graceful poems offer refuge in emotionally turbulent times and invite readers to cross the sacred threshold typically separating the poet from his rapt audience. --Shahina Piyarali, writer and reviewer