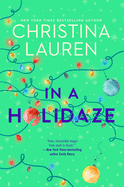 Christina Lauren, the author duo behind Josh and Hazel's Guide to Not-Dating and The Unhoneymooners, has created an entertaining romance that's a perfect cozy holiday read. In a Holidaze begins with 26-year-old Maelyn Jones, who is frustrated with everything this Christmas. The Joneses have always spent the holidays with her parents' college friends, gathering together at the Hollises' Utah cabin. Mae has had a crush on Andrew Hollis for more than a decade, but she's pretty sure he thinks of her as a cousin. Regretting a drunken decision to make out with Theo, Andrew's little brother, and devastated by the Hollis family's announcement that they're going to have to sell the cabin, Mae begs the universe on the way back to the airport, "Can you show me what will make me happy?"
The Joneses are almost immediately in a terrible car crash, and Mae wakes up six days earlier, on the flight to Utah. She's astonished to realize that she has a chance to do the holidays over. But can she get things right this time and show Andrew how she truly feels?
Sweet and hilarious, In a Holidaze is the story of a woman who is given another chance. Most people probably wish they could undo a romantic decision at some point in their lives and will surely root for Mae as she lives this Christmas over and over again. Christina Lauren's fans are sure to love this lighthearted novel, perfect for those who liked Groundhog Day or Life After Life. --Jessica Howard, bookseller at Bookmans, Tucson, Ariz.