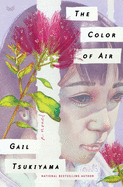 Koji Sanada arrived in Hawai'i in 1895, a 10-year-old eager to leave Japan's traditions. His parents, part of a wave of immigrant workers, expected to work for the Puli sugar plantation for three years. When The Color of Air opens in 1935, Koji, a pillar of the Hilo community, has been with Puli his entire life.
Rich with sensuous detail of island life, this novel by Gail Tsukiyama (The Samurai's Garden; A Hundred Flowers) illuminates Hawai'i's harsh plantation conditions as well as the close-knit village families. Hilo is preparing to welcome Daniel, son of Mariko, the love of Koji's life, returning after a decade in Chicago as a doctor.
A celebration at Nori's Okawa Fish Market, redolent with "heavy sea salt fish pineapple mildew odor," brings the community together, as they watch Mauna Loa, the volcano that's been sending warning tremors for two months. Secrets also simmer. Daniel never knew the truth about his father; he doesn't share why he left Chicago. His high school girlfriend Maile is also back, with no explanation. Everyone lovingly recalls Mariko, whose "ghost voice" chapters provide answers, and Koji knows it's time to face the past.
Shared histories and loyalties bind the people of Hilo, whose faith determines "this was all Pele's doing, yeah" and not geologists', when Mauna Loa's lava spares the town. Koji reflects, "The sugar plantations were what brought them to the islands, but it wasn't what made them stay. It was the community they'd formed in spite of it, growing friendships and families as well as cane." --Cheryl McKeon, bookseller, Market Block Books, Troy, N.Y.