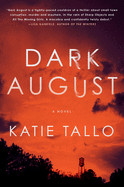 A young woman leaves her abusive relationship and life of petty crime to deal with an inherited estate and personal demons in the haunting mystery thriller Dark August.
Augusta "Gus" Monet was eight years old when her police officer mother was killed and Gus's grandmother sent Gus to a year-round boarding school. After graduation, knowing home wasn't really home, she chooses homelessness on the streets of Toronto, where she hooks up with a petty criminal named Lars.
Then she gets a phone call saying her grandmother has died. Gus inherits a decrepit mansion facing foreclosure, an ancient car, $29 and an old dog she got as a puppy when her mom died. Selling the house and car might pay for what's owed to the bank, but that means Gus will be back on the streets again. While weighing her options, she finds a trunk in the basement filled with documents from a cold case her mother was obsessed with before she was killed. Hoping to understand the how and why behind her mother's death, Gus tries to solve the case herself, putting her own life in danger.
Dark August is part murder mystery, part big fraud in a small town, and all engrossing. Gus is trapped under a blanket of bitter childhood memories, but Tallo rewards readers with the eventual euphoric release of our heroine's burden. This is a finely crafted debut novel with an emphatic reminder that people who get knocked down can always get back up. --Paul Dinh-McCrillis, freelance reviewer