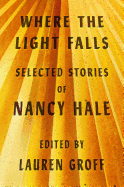 The short fiction of mid-century author Nancy Hale (The Prodigal Women) has been resurrected to astonishing effect in Where the Light Falls: Selected Stories of Nancy Hale.
Editor Lauren Groff (Florida), in an insightful introduction, argues that Hale is an important 20th-century writer often overlooked in the male-dominated canon. Groff likens Hale's style to a literary "chiaroscuro," and, indeed, these 25 stories reveal a writer equipped with a painterly sensibility. (Many of them first appeared in the New Yorker.) Like her contemporaries Ernest Hemingway and F. Scott Fitzgerald, Hale chronicles American life with directness and keen insight, providing a picture of society in many stages.
Her stories, however, place women at the center. "Midsummer," for example, explores female sexual desire in tantalizing poetic detail. "That Woman" focuses on Southern culture and how a woman's honor is controlled by deeply entrenched patriarchal views. And before "mansplaining" was even a word, Hale was writing about it in "Book Review," in which chauvinistic men shoot down a woman's thoughtful commentary. The standout story is "Who Lived and Died Believing." Harrowing and haunting, it features a woman in a psychiatric hospital succumbing to madness. Hale plunges into the internal stream-of-consciousness of the afflicted character à la Virginia Woolf or William Faulkner. As the woman's mind deteriorates, she clings to a vision of love: "It still endured, somewhere, upon the fading world."
Where the Light Falls showcases the work of a versatile and important writer. Though Hale is no longer with us, her stories are timeless. --Scott Neuffer, writer, poet, editor of trampset