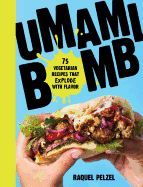 Vegetarians and carnivores alike will rejoice at the bold, inventive recipes in Umami Bomb: 75 Vegetarian Recipes that Explode with Flavor. If your vegetable recipes are sweet, salty, bitter or sour, but still missing that special something, you need to increase the fifth flavor, and up the umami factor. Umami is often considered to be meaty, but Umami Bomb proves that you can have recipes packed with savory richness without using any meat.
Seventy-five flavorful recipes are grouped into chapters organized by eight umami-rich ingredients: aged cheese, tomatoes, mushrooms, soy sauce, miso, caramelized onions, smoke and nutritional yeast. After the end of these eight main chapters there is a bonus fish chapter, with umami-rich ingredients like anchovies adding extra savory power for pescatarians.
Filled with bright pictures, clear fonts and easy-to-follow recipes that will leave mouths watering, Umami Bomb is sure to please any eater. Add a splash of soy sauce to marinara to create depth of flavor. Surprise brunch guests with a Savory Mushroom Breakfast Porridge that will knock their socks off. Keep a jar of caramelized onions in the fridge to have on hand for Caramelized Onion Focaccia with an Everything Bagel Seasoning. And even add savory flair to desserts, using smoke to make delicious Grilled Banana Splits. Perfect for vegetarians wanting to improve their dinner parties, or anyone interested in a more plant-based diet, Umami Bomb is a welcome addition to any cookbook collection. --Jessica Howard, bookseller at Bookmans, Tucson, Ariz.