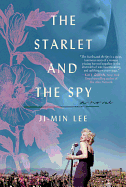 "I go to work thinking of death. Hardly anyone in Seoul is happy during the morning commute, but I'm certain I'm one of the most miserable."
At the opening of Ji-Min Lee's The Starlet and the Spy, Alice J. Kim works as a translator for the American forces a year after the armistice and ceasefire. Her life and outlook are as dour as these introductory lines: the traumas of the war have left her hopeless and joyless. When her boss tells her about an upcoming assignment, he expects she'll feel excited and honored to serve as escort, interpreter and handler for Marilyn Monroe, on a tour to entertain U.S. soldiers. Alice is unmoved--what does she care for an American movie star?
During the course of four days with the bombshell, however, Alice will be forced to broaden her perspective on her own life and options. There seems the hint of a chance that she will find someone she's lost. As Alice struggles with her will to live, the American beauty surprises her. Stunning, sexy, charismatic, yes; but Monroe is also unexpectedly approachable. And she will make a small but essential difference in the life of the less famous woman.
Born of a curiosity about human relationships in unusual times, The Starlet and the Spy asks the questions: What if we met across a divide? What if a despairing young Korean woman reached into Marilyn Monroe's makeup bag for a lipstick, or a way out? In a decidedly optimistic turn, Lee leaves her ending open, and her reader free to wonder what might be next for Alice. --Julia Kastner, librarian and blogger at pagesofjulia