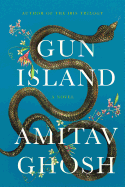 Amitav Ghosh's Gun Island captures the reader's imagination with a bold rendering of accelerated climate change and migration. It follows on the heels of the author's nonfiction work, The Great Derangement: Climate Change and the Unthinkable, in which he challenged fiction writers to confront the greatest existential threat to mankind. Ghosh rises to the summons himself by crafting a surreal, fantastical story of displacement caused by extreme weather.
Deen is an Indian American rare books dealer dividing his time between New York and Kolkata, a solitary life that has experienced its share of romantic disappointments. While in India, he is drawn to Bengali folklore about a gun merchant and the goddess of snakes who pursues him. Deen's friend and mentor Cinta is also drawn to the story and encourages him to venture further into mythology as a possible tool for understanding the bewildering present.
As Deen travels from Kolkata to Los Angeles and then on to Venice, retracing the gun merchant's steps, he witnesses wildfires, cyclones, tornadoes and sinking lands. Deen meets marine biologist Piya, who opens his eyes not only to the oxygen-starved waters that are wreaking havoc on sea life but also the stagnation of his own sheltered heart.
In a Venetian lagoon scene reminiscent of epic mythological battles, a migrant boat is confronted by warships and protestors intent on denying it access to shore. The anti-migration crusaders fail to realize that the forces of climate change will sooner or later render them utterly homeless, too. Ghosh's (River of Smoke) mesmerizing storytelling style, honed over a prolific career, positions him as one of the leading contenders of contemporary South Asian literature. --Shahina Piyarali, writer and reviewer