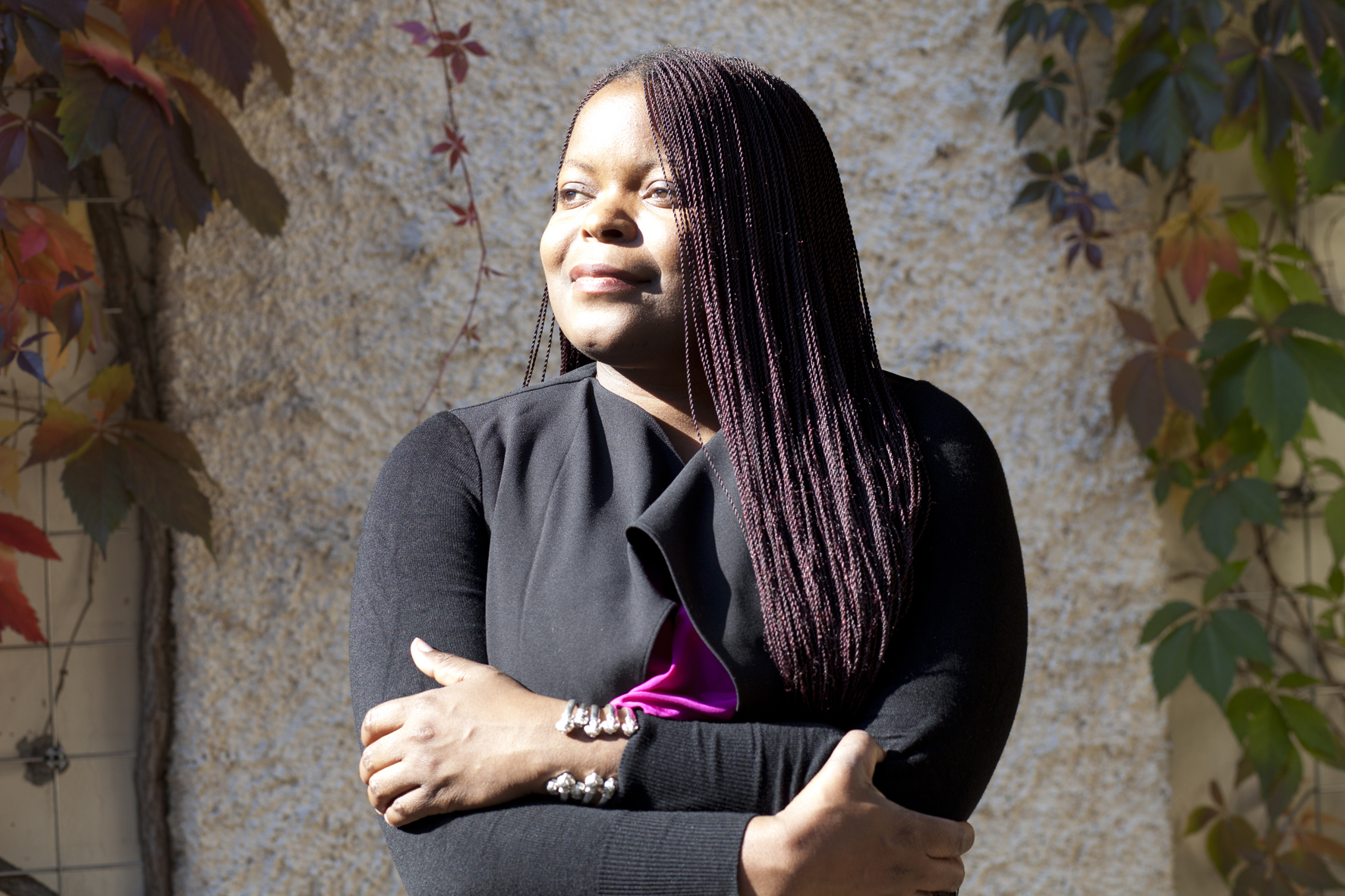 (photo: Marina Cavazza)
Petina Gappah is an award-winning and widely translated Zimbabwean writer. She is the author of the novel The Book of Memory and two short story collections, Rotten Row and An Elegy for Easterly, which won the Guardian First Book Award. Gappah is also a lawyer specializing in international trade and investment. Her second novel, Out of Darkness, Shining Light, the story of the men and women who carried Dr. Livingston's body and his work across Africa so that his remains could be returned to England, was just published by Scribner.
You published your first story when you were 14 but then went to law school?
I am so tickled that you know that! My first published story came out in 1985 in the annual school magazine, the Santa Dee Blues--I was educated at a rural convent school, St Dominic's Secondary School near my home city, Harare. The story was called "Marooned on a Desert Island" and began with the sentence, "For the umpteenth time I looked out at the sea, and for the umpteenth time, I was disappointed." It would definitely not make the list of immortal first lines!
Before that, at age 10, I had written a science fiction "novel" set in a penal colony on Mars called Return to Planet Earth!, complete with the exclamation mark and my own illustrations.
I always wanted to be a writer, but as the first person ever in my entire family--and we are talking across three generations and more on both the maternal and paternal sides--to go to university, my parents and teachers urged me to study for what they termed a "professional degree." And so I chose law.
In your acknowledgements you say, "this book has been almost twenty years in the making." What connected you to the story of Dr. Livingstone originally?
We studied African history at school, and that included the first encounters between Europe and Africa. Along with English literature, African history was my favourite subject. I still have my history book from when I was 16, the book in which I traced out David Livingstone's journeys and wrote about his final days, his death and the journey that his companions undertook to bring him home to England. That journey, his very last one, as a corpse, was something that intrigued me because it was such an extraordinary thing for his companions to have done. I thought it would not only be a fantastic premise for a novel, but also for a play or a film.
You tell this story through two voices that the history books have essentially erased. Why these two?
I don't think they have been erased so much as they were just not important to the Victorians, and subsequently, to history. Only Livingstone mattered, Halima and Jacob were just two among the amorphous group of anonymous companions who carried his body. I am strongly influenced by what South Asian social scientists call the subaltern view of history, that is, in looking at history and social change not from the point of view of elite participants, but from that of ordinary people. Livingstone's work had a profound effect on the fate of Africa, and his companions played a role that was just as important. Not only did they carry out maps and documents that eventually assisted in the colonization of the African continent, they also cemented the Victorian myth of Livingstone as the white man loved by Africans who ended the east Africa slave trade and spread Christianity in its place.
Did you know from the start it would be Halima and Jacob, or were there others you considered as narrators?
My initial inspiration was the magnificent As I Lay Dying by William Faulkner. I had about 12 narrators at first, but the three that really pulled me in, and seemed most distinctive, were Jacob and Halima and the chorus. So I soon dropped the others and focused on those three.
Did you find one to be more challenging to create?
I really loved all three voices because they are so different. Jacob and Halima are contrasting characters in that, much as Jacob believes he is free because he is no longer a slave, he is in fact the least free character in the book, and while Halima believes she is a slave, she is nonetheless the most free.
As much as I loved Halima though, she was the most difficult to write because I could not give her more knowledge than an uneducated and illiterate slave woman of her time could reasonably be expected to have. At the same time, I wanted to avoid the "Massa Livingstone, he talk, Massa Livingstone, he sleep" stereotype that is associated with uneducated slaves. She narrates in the first person, and no one is illiterate in their own mind and, in any event, she may be a slave and uneducated but she is not an unintelligent woman. Finding that line between her ignorance and her natural intelligence was a big challenge. I really missed her voice in the second part of the novel, where Jacob takes over. But if she had been narrating it, it would have just been "and then we came to this place and moved on to that place" because she has no conception of geography. So I had to limit her voice to her knowledge.
I also ended up cutting quite a lot of the chorus voice because at some point it became artificial and stilted. So I left it to just the prologue.
My favourite character to write was Jacob. I was strongly influenced by Marilynne Robinson in writing his character because she writes such wonderful, believable, and flawed characters of faith.
How did you go about excavating their stories?
I did a crazy amount of archival research. The key really was in Livingstone's journals. He was a man of great curiosity, and was interested in just about everything and everyone. His journals are filled with stories of his companions. One of my favourite passages is when he says that one of the women in his party is dangerously attractive and he wants her married to avoid trouble. I was greatly amused by the idea that while he was on this great, history-making enterprise of looking for the source of the Nile, he was also involved with everyday gossip and interfering in the love affairs of his companions. Little passages like that were really the flesh around which I built the story. The novel is obviously fiction imagined around a historical fact, but I tried as much as I could to give life to actual events, many narrated in Livingstone's journals.
And, finally, what's next now that this book is complete?
I am now working on my fifth book, a novel provisionally titled Mount Pleasant. It is very much in the same subaltern approach as Out of Darkness, and narrates the history of Rhodesia and the transition into Zimbabwe as told through the lifelong friendship between two very different men, one a Jewish man born in Vienna, Austria and the other, a Karanga man born in rural Gutu, Rhodesia. It is a doorstop of a novel, and I can't wait to finish it. --Jen Forbus