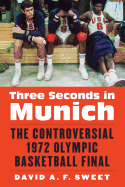 "They're all gone." These enduring words of sportscaster Jim McKay announced the murder of 11 Israeli Olympians by Palestinian terrorists at the 1972 Games. Three Seconds in Munich adeptly scrutinizes the infamous basketball tournament between the U.S. and the Soviet Union that took place at the same Games, and sportswriter David A.F. Sweet (Lamar Hunt) strikes a perfect balance in discussing both events.
Sweet takes the gracious risk of losing his audience to anguish by leading with the hostage crisis and not paying mere lip service to the horror. In doing so, he gains crucial trust in a story calling out collusion and game-fixing at one of the highest levels of sport.
Mere days after the massacre, following an undefeated 36-year Olympic streak spanning a "borderline-ridiculous sixty-two games," the U.S. lost to the Soviets 51-50 in the gold medal game. But officials twice added three seconds back on the clock--once after time had expired and the U.S. had won the gold.
Three Seconds is painstakingly researched. While Sweet exposes conspiracy and wrongdoing, he does not discount other elements working against the U.S. team, including coaching style, politics and a dearth of players due to rules prohibiting professional athletes (seemingly overlooked on the Soviet front).
Sweet does a stellar job of pulling emotional strings and revealing how "encountering the evil of terrorism and suffering an excruciating, unjust" loss in only a four-day span continues to affect the players. --Lauren O'Brien of Malcolm Avenue Review