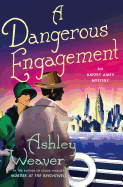 In A Dangerous Engagement, the sixth entry in the Amory Ames mystery series by Ashley Weaver, Amory and her husband, Milo, leave their native England for a wedding in New York City. Milo grumbles about visiting a city under Prohibition, but Amory is excited to be a bridesmaid in the wedding of her childhood friend, Tabitha Alden.
But soon after Amory and Milo arrive to stay at the spectacular Alden home, they discover that the groom may not be quite what he seems. And then, to everyone's shock, the best man is gunned down on the front steps of the mansion. With rumors of rum-runners abounding, Amory cannot resist infiltrating a speakeasy that belongs to the notorious gangster Leon De Lora, even after Milo warns her away. But she quickly finds herself in danger, and nearly loses her life in a burning warehouse. Can Milo and Amory team up to catch a killer, or will the killer catch them?
Fans of Maisie Dobbs or Lady Georgiana Rannoch who have not yet encountered Amory's enthusiastic schemes are sure to love this addition to the female detective pantheon. Amory and Milo are equally at ease in their upper-crust world and in the questionable areas of Prohibition New York, and the glinting humor in their relationship makes for enjoyable reading. A Dangerous Engagement is a charming mystery full of intriguing historical detail, which can either be read as a standalone, or as a new entry in a delightful series. --Jessica Howard, bookseller at Bookmans, Tucson, Ariz.