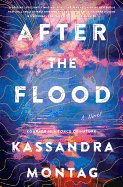 After the Flood, the first novel by Kassandra Montag, is the atmospheric post-apocalyptic story of a mother's quest. Myra, who lived in Nebraska before the deluge came, has spent the last seven years in search of her elder daughter, Row. Row's father snatched her away just before Nebraska flooded, leaving behind a pregnant Myra. Myra gave birth to another daughter aboard the small boat her grandfather built in the attic of their home. Pearl has spent her entire life on this ship, roaming with Myra from island to island, at the tips of former mountain ranges.
This new, watery world is a terrifying place, full of bands of roving pirates and very little food besides fish. Myra and Pearl are floating in what used to be British Columbia when they hear of a girl matching Row's description at a colony on the edge of Greenland. Setting off on an epic journey down the Rockies to the Caribbean, and back up north to Greenland, Myra will battle pirates, the elements and her own fears all the way.
Beautiful, violent and horrifying, After the Flood is the poignant tale of a mother's desperation. When Myra and Pearl join the crew of another ship, the relationships among crew members become a microcosm of humanity in the wake of disaster. Myra's story will resonate with fans of The Road or Station Eleven, and make readers wonder just how well they would handle the end of the world. --Jessica Howard, bookseller at Bookmans, Tucson, Ariz.