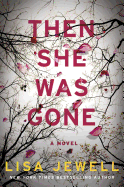 Lisa Jewell (I Found You; The Girls in the Garden) gets more riveting and twisty with every book she writes. Then She Was Gone is the electrifying story of 15-year-old Ellie, who headed off to the library to study for her A-levels, and vanished, never to be seen again. Ellie's mother, Laurel, has spent the decade since the disappearance walking a fine line between hoping for a miracle and mourning the loss of her daughter.

Laurel's marriage fell apart in the aftermath of losing Ellie. Now she is attempting to reconnect with her two adult children, whose needs slipped through the cracks during all the chaos of the disappearance and divorce. When Laurel meets Floyd, who is funny and charming, she is swept off her feet. Happy for the first time in years, she revels in this new love. But then Floyd takes her home to meet his daughter, Poppy, and Laurel is unnerved by how strongly Poppy reminds her of Ellie. All of Laurel's unanswered questions come flooding back, as she grapples with her relationship with Floyd and Poppy's presence in her life.

Told in alternating chapters that slowly reveal Ellie's story a decade before, and Laurel's present day, Then She Was Gone is completely absorbing. Fast-paced, well-written and with a shocking ending that will keep readers guessing, Then She Was Gone is a nearly pitch-perfect thriller. Fans of Gillian Flynn, Paula Hawkins and Ruth Ware are sure to adore this haunting novel. --Jessica Howard, bookseller at Bookmans, Tucson, Ariz.