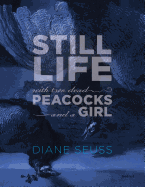 Somewhere between the opening poem, "I Have Lived My Whole Life in a Painting Called Paradise," and the concluding "I Climbed Out of a Painting Called Paradise," the narrator of the lyrical, lusty, art-centric Still Life with Two Dead Peacocks and a Girl breaks away from the comfort of a Midwestern pastoral. She trades in milkweeds, hollyhocks and honeybees "to climb over the edge and plummet into whatever is beyond it.... Some say it is hell, and some say just another bolder paradise."

In a medley of structure, cadence and syntax, Pulitzer finalist Diane Seuss (Four-Legged Girl) leads her narrator through a museum of still-life paintings from the masters (Van Gogh, Dürer and the Rembrandt of the book's title) and the less well-known Gijsbrechts and Galizia, with stops at the more modern work of Warhol and Pollock (likening the work of the latter to a Walmart parking lot: "Frozen Coke splatter.... Vomit-arc. Winding loops of coal tar sealant.") In a string of self-portrait poems, Seuss reflects on the scrapes and stumbles of youth and the premature deaths of parents, poets and rock stars like Amy Winehouse ("the spitting image of my aesthetic as expressed in my approach to eyeliner").

If escaping into art is the driving motif of Seuss's new collection, she breaks the gallery walk sequences with a run of innovative unrhymed sonnets, a modified sestina and prose poems as colloquial as a like-filled teen conversation about cancer or a factory girl's celebration of a pregnancy ("we hire a party bus and all us girls go out on the town, barbeque, bowling, and a Black Sabbath tribute band"). Still Life with Two Dead Peacocks and a Girl is as much about running as it is about standing still, and as much about confronting death as it is about rediscovering life. --Bruce Jacobs, founding partner, Watermark Books & Cafe, Wichita, Kan.