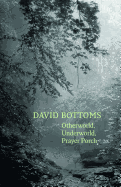 Ever since his first poetry collection, with the arresting title Shooting Rats at the Bibb County Dump, won the 1979 Walt Whitman Award, David Bottoms has used the country lore of his native Georgia as the fertile source of eight more collections and two novels. His poems tell stories of rural characters attached to the land and the past but searching for something more than a broke-down truck, whiskey and rabbit hunting. In Otherworld, Underworld, Prayer Porch, the former poet laureate of Georgia probes his Canton County roots to ruminate on the memories and lessons of youth. These are poems of boys and their fathers and grandfathers; of bass fishing, the Baptist church and Little League baseball; and of the bare hospital rooms of parents' last days.

The weight of Bottoms's poetry hangs from language both colloquially profane and lyrically reverent. In "A Small Remembrance," for example, the nostalgic narrator stands in a Kmart parking lot that was once "the homemade infield/ where my old man hit grounders and taught the subtleties/ of the double play." Organized religion gets an amusing look in poems like "Baptist Women," where an octogenarian mother hears "the voice of God/ rumbling in her hearing aid." More equivocal, however, is Bottoms's longing for the "dusty places" in the poem "Cathedral," where one might find "A gentleness/ is all I knew to call it, a calm, a solitude."

These are the reflections of a man who repeats in both the opening and closing pieces that "Near the end, though, only one thing matters." Finding that one thing is at the heart of Otherworld, Underworld, Prayer Porch. --Bruce Jacobs, founding partner, Watermark Books & Cafe, Wichita, Kan.