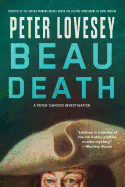 Peter Lovesey (Another One Goes Tonight) has created an intricate and multi-layered puzzle for Superintendent Peter Diamond and his team to solve in Beau Death. The story begins with a building demolition: an old row of houses in Bath, England, is being destroyed when a skeleton is revealed in an attic. The police must use cherry pickers to investigate the now precariously positioned body, because no one can enter the half-demolished house.

What they see strikes an interesting historical note--the skeleton is wearing 18th-century regalia, including a black wig and a white tricorne hat--both distinctive traits of Beau Nash, known as the King of Bath in the 1700s. Can it be that the famous arbiter of fashion has been entombed in an attic for hundreds of years? Or is the killing much more modern than that?

Lovesey keeps readers on their toes as Diamond's team scrambles to scrutinize the skeleton and, then, when someone new is shot and killed, the team must work overtime, probing both the past and the present. Twists and riddles abound, as the investigators inquire into Beau Nash's life, as well as the wealthy members of the exclusive modern society that bears his name. Diamond's dry wit and perspicacity adds welcome levity to the story, as do the personal quirks of several other team members. Fans of Ian Rankin, Peter Robinson or Deborah Crombie are sure to love Beau Death. --Jessica Howard, bookseller at Bookmans, Tucson, Ariz.