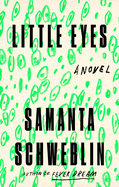 by Samanta Schweblin, trans. by Megan McDowell
Technology twists human relationships to the breaking point in Samanta Schweblin's thrilling dystopian novel, Little Eyes.
Expertly translated from Spanish by Megan McDowell, the novel is a deft and heartrending exploration of technology's capacity for both good and evil. Schweblin (Fever Dream) creates a present day in which new devices called "kentukis" explode in popularity until people are connected to them all over the world. The small devices come in many shapes, resembling bunnies, dragons, even crows.